Learn How the Internet of Things is Enabling Smart Farming
Global agricultural interests, from massive, consolidated farming companies to hyper-local subsistence farmers, currently produce more than enough food to ensure the needs of the entire population are met. However, according to the Food and Agriculture Organization of the United Nations, a staggering 800 million people are "chronically undernourished" and one in three people are impacted by malnutrition. Looking ahead, climate change, water scarcity, severe weather and other variables will only heighten challenges to agricultural production. The U.N., as part of the research supporting its sustainable development goal of ending hunger, forecasts that, "Agricultural production will have to increase by an estimated 50% by 2050 to meet projected demands for food and feed a world population projected to rise to over nine billion people by 2050."
This is a global problem that will likely require a global, apolitical solution; no single industry is able to unilaterally ensure that no one goes hungry. But, as the technology driving the internet of things continues to develop, lowering in cost and spreading in accessibility, exciting new precision agricultural techniques are enabling farming operation of all sizes to leverage data insight and realize efficiencies that materially increase yields while optimizing resource allocation and costs.
IoT in Agriculture: Smart Cows
U.K.-based service provider Vodafone, which operates in 26 countries and supports more than 470 million mobile subscriptions, offers a number of precision agriculture-related solutions that address use cases including soil and atmospheric sensing, livestock monitoring and even GPS-based, autonomous farm implements.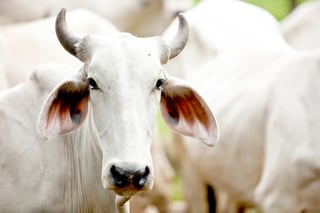 One particularly novel case study revolves around "connected cows." Moocall has brought to market an IoT solution that helps ranchers monitor pregnant cows that are preparing to give birth. A battery-powered sensor detects motion associated with oncoming labor, then sends an SMS notification alerting a herd manager to coming birth. This means farmers can be more focused in the time spent with pregnant heifers, and reduce costly livestock losses that hurt the bottom line. Moocall CEO Emmet Savage said the company plans to expand its offerings to provide a similar service to horses, as well as new devices geared toward "flock protection. Our aim is to become the Fitbit for animals."'
IoT in Agriculture: Precision Farming
Today's farmers face a set of difficult challenges—an increasing worldwide demand for food, a changing climate, and a limited supply of water, fossil fuels and arable land. To surmount these hurdles, the agriculture industry is adopting an array of digital solutions including:
Robotics
GPS Technology
Computer Imaging
IoT sensors report weather conditions and monitor soil moisture and acidity while animal farmers track the movement and behavior of livestock remotely via embedded devices. Industrial IoT applications are also useful for monitoring indoor agricultural facilities such as silos, dairies and stables. For example, an agricultural storage system can establish baseline performance norms and then set alert and alarm conditions related to temperature, vibration, humidity, and other conditions.
In determining optimal times to plant, spray fertilizer, harvest, or take other actions that inform crop outcomes, soil sensing has emerged as a prime agricultural IoT use case. Vodafone uses narrow band internet of things () connectivity to transmit information pertaining to soil moisture content, PH levels, temperatures and other indicators into analytics programs that provide actionable insight for growers. NB-IoT is a good fit for soil sensors in that the modules are low-cost and, based on a power-savings mode, can work in the field for up to a decade off of just one battery. "NB-IoT is superior when it comes to precision-farming," Chris Byrne, Vodafone's director of IoT Solutions, said.
"Even deep in the soil, the wireless sensors provide excellent connectivity coverage and the low power consumption means farmers don't need to change a battery for over 10 years. Using IoT, the farmer knows when to spray and where."
The IoT can bring broad efficiencies to the agricultural space, and create a virtuous cycle that makes food products more readily available to consumers, saves farmers time and money, and lessens the environmental impact of farming by driving sustainability into the process. Given the sweeping impact of precision agriculture, research firm Markets and Markets expects spending on associated solutions to grow at a 13.47% compound annual growth rate, equating to a $7.87 billion annual market opportunity by 2022 with researchers noting, "The increasing focus on farm-efficiency and productivity is expected to propel the growth of the precision farming market."
When consumers think of IoT applications, connected cows or digitally monitored fields rarely come to mind—but they should with the rise of IoT in agriculture. According to a January 2016 Machina Research report, the number of connected agricultural devices is expected to grow from 13 million at the end of 2014 to 225 million by 2024.
IoT in Agriculture: Low-Cost Sensors
According to Statista, the number of low-power wide area (LPWA) connections used in land agriculture worldwide will rise to more than 117 million by 2024—up from just 160,000 connections in 2015. In part, the exponential growth coincides with a sharp reduction in cost for individual sensors and network operating costs. Because they are not dependent on third-party WiFi or cellular connections, LPWA options such as Symphony Link enjoy greater network reliability and scalability even across a vast farming enterprise.
A Smart Future
The goal of precision farming is not simply to gather data via sensors, but to take it a step farther—analyzing the data to evaluate needed interventions or changes. Smart farming application areas include farm vehicle tracking, livestock monitoring, large and small field farming, and storage monitoring. For example, livestock sensors might notify a farmer that an animal is sick, allowing it to be pulled from the herd before the disease has time to spread. Soil sensors alert farm owners to high acidity or other impending problems, allowing time to avert poor yield before it happens. Self-driving tractors can be controlled remotely, providing significant savings in labor costs.
The next several years will bring increasing use of these and other smart farming technologies. According to BI Intelligence, IoT device installations in the agriculture world will experience a compound annual growth rate of 20 percent. U.S. farmers are already proving the efficiency of smart farming techniques by producing an average 7,340 kilograms of cereal per hectare (2.5 acres) of farmland versus the worldwide average of 3,851 kilograms per hectare.
A snowballing world population means the agricultural industry will need to produce approximately 70 percent more food in 2050 than it did in 2006, according to the UN Food and Agriculture Organization. To maximize crop yields and use of resources, farmers are utilizing smart agriculture technology to track progress, predict outcomes and drive decision-making.
As IoT applications in agriculture continue to develop, farms will become more connected, more streamlined, more efficient and—ultimately—more productive.
---
Sources
Beecham Research. (2014). Agriculture embracing the IoT vision. https://www.beechamresearch.com/files/BRL%20Smart%20Farming%20Executive%20Summary.pdf
Machina Research. (2016, January 12). Agricultural IoT will see a very rapid growth over the next 10 years. https://machinaresearch.com/news/agricultural-iot-will-see-a-very-rapid-growth-over-the-next-10-years/
Machina Research. (2016, May). Low Power Wide Area (LPWA) networks play an important role in connectiong a range of devices. https://www.statista.com/statistics/626424/lpwa-connections-worldwide-by-use-case/
Meola, A. (2016, October 7). Why IoT, Big Data & Smart Farming is the Future of Agriculture. http://www.businessinsider.com/internet-of-things-smart-agriculture-2016-10