The Internet of Things (IoT) has changed and improved many aspects in our modern day lives with innovative, connected solutions. The benefits of IoT are boundless and there are many more improvements to come. One area that has greatly benefited from IoT solutions are smart buildings. Facility owners, operators, and managers are all greatly benefiting from the solutions IoT is providing workplace environments.
What is a Smart Building?
A smart building is the term used to describe a facility that utilizes IoT solutions to optimize the building. This optimization can be seen in many ways. One way is by simplifying tasks such as temperature controls. Another way is by reducing costs. There are countless ways IoT can optimize buildings and make them smarter. However, in this blog we are highlighting 3 ways IoT is changing buildings to make them smarter through the use of asset tracking systems.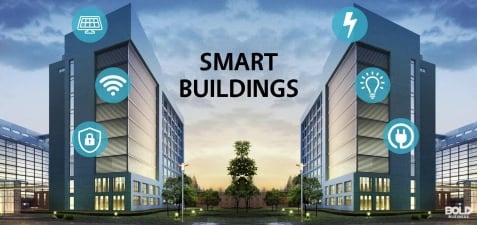 Building Automation Systems
The first way IoT is making buildings smarter is through Building Automation Systems (BAS). BAS controls various electrical and mechanical functions in a building.
Generally, BAS is used for functions like heating, ventilation, air conditioning, light control, and security. Buildings are able to operate much simpler since these systems are centralized on a single network.
IoT is the backbone of how BAS operates. All of the building's functions being synced together on a singular network is the starting point for these solutions. Now, facility owners can track the status of the components within a building in real time with RTLS (real time location systems). RTLS can update users on the current condition of the building and the systems involved in a BAS.
The main benefit facility owners are concerned with in their BAS is energy savings. These systems have shown to save some companies up to 30% in energy cost as a result of implementation.
---
Join the AirFinder Difference!
Innovation. Organizations can be freed up to innovate and bring more impactful products and services to market.
Profitability. Increased profitability provides new opportunities to innovate and improve valuation.
Digital Transformation. Discover competitive advantages, new revenue opportunities, improved customer relationships, and increased efficiency.
---
Analytics
The next way IoT is changing buildings to make them smarter is through asset tracking analytics platforms. IoT is able to monitor and track data involved in a building, including the materials moving around within it. By tracking such data, workplaces are able to increase the efficiency of the building in a few ways.
Increased Productivity


Managers are able to get deeper insights into employee productivity

. IoT trackers can be used to monitor employees within a building and track things such as movement and location. This allows managers to ensure that employees are remaining productive and within designated work zones.

Reduced Energy Consumption


IoT sensors can monitor equipment utilization rates within certain rooms or areas of a building. These sensors can monitor data such as location, temperature, and more.

Reduced Operating Costs


Reduced operating costs are another benefit of IoT analytics platforms. By utilizing IoT trackers on certain equipment, businesses can ensure machinery is only running when in use. Another way IoT trackers can reduce operating costs is by ensuring that critical equipment within a building doesn't go missing. This ensures that operations continue smoothly each day.
Data Collection
Another way IoT is changing buildings to make them smarter is from data collection. IoT solutions can connect all devices within a building under one network. Centralized networks enable maintenance and process efficiencies of buildings to be monitored all from one device. The data collected from connected devices and sensors are stored in a centralized, cloud-based system. By utilizing cloud-computing, data can flow from sensors and devices to the cloud effortlessly. Users can then access this stored data to fix or prevent malfunctions, or find innovative ways to improve the efficiency of the building.
IoT has made it possible for buildings to be maintained remotely by contractors. The building's functions are monitored in real time with RTLS, and these functions are all in a single network. Contractors and employees alike can access the cloud and fix issues remotely. They also can monitor equipment remotely to conduct routine maintenance checks.
Smart Buildings Are Here to Stay
The Internet of Things has made it possible not only for business entities to be more efficient, but also the building and the objects within them too! Companies can reduce operating costs, increase employee productivity, and process efficiencies.
RTLS for Your Smart Building
There are many IoT devices on the market today to help with your asset tracking and monitoring needs. Link Labs' AirFinder solution stands out from other RTLS systems with its energy saving power at a low cost. AirFinder provides real time updates on the condition, location, and position of an asset. By integrating AirFinder into your workplace, you're taking a step forward into making the workplace smarter and more efficient.
If you are interested in learning more about Airfinder and how it can help you improve your business, request a demo today!