Link Labs has been exploring the use of Apple AirTag at a commercial scale. Through this exploration, we've found several limitations of the AirTag as it's designed to suit consumer needs and not B2B environments. If you're curious for more information on how Apple AirTag stacks up against Link Labs' AirFinder, check out this webinar on "AirTag vs. AirFinder: Selecting the Best Tracker for Enterprises".
Below is a quick preview of what to expect during the webinar, including key differentiators between the two solutions, components of effective enterprise asset tracking solutions, tracking use cases, and more.

Enterprise Asset Tracking and Monitoring
Regardless of industry, tracking assets enables companies to more efficiently perform daily tasks by knowing where critical materials are located at any time. Whether enhancing efficiency, tracking work-in-process (WIP), or any other use case, asset tracking can provide that relief.
Interest in asset tracking gained traction during Apple's release of the AirTag product. Although it seems like a possible solution for companies looking to track their assets, the product is limited in regards to battery life, number of users, environmental monitoring, UI capabilities, and more.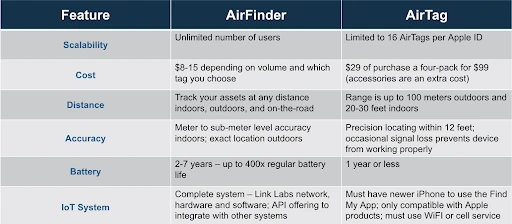 RTLS Software for Asset Tracking
Knowing the location of your asset in real-time is crucial for companies looking to be more efficient. Workplaces in any sector require tools, equipment, and people to keep things moving. Knowing the availability of these assets in real-time provides companies greater visibility right when they need it.
The AirTag is a consumer tracking system for personal items. Its real-time capabilities only work with WiFi or cellular services through an Apple product (iPhone, iPad, MacBook) or an Android device if a special Bluetooth scanner is installed. That said, the product does not come with software or hardware that provide the ultimate RTLS experience.
With AirFinder, customers receive a RTLS solution that comes with different tag options that use a blend of technology (secure network, WiFi, GPS, and Cellular) and its own software that provides tracking and monitoring information for assets located indoors, outdoors, or on-the-road. For more information on the RTLS comparison between the two products, check out this blog.
Don't Miss this Webinar on AirTag vs. AirFinder
If you've been considering AirTag for your enterprise tracking needs, watch this webinar before making your decision: AirFinder vs AirTag: Selecting the Best Tracker for Enterprises.