It's no secret that mobile network providers are sunsetting Code Division Multiple Access (CDMA). But the big question on the minds of engineers, manufacturers, and anyone else involved in IoT is: What does the CDMA phase-out mean for my company's IoT strategy in the long-term? We'll explore that below, as well as a brief technology overview and a review of the important CDMA shutdown dates.
Cellular & CDMA Technology Overview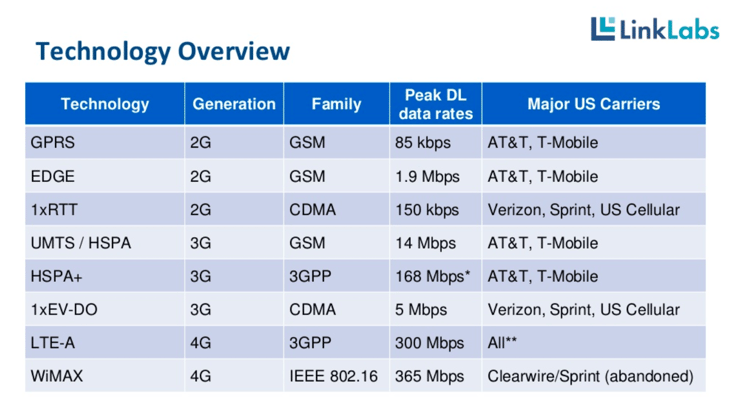 The image above comparing 2G, 3G, and 4G technologies shows a gradual progression in speed. This is something users care about for mobile handsets, but is less important for Cat-M and NB-IoT devices, which are part of the 3GPP IoT roadmap.
2G started in the early 1990s with GSM, which was the first real introduction of data service via cellular. GPRS and Edge brought on packet-switched networks as opposed to circuit switching. EDGE, essentially a faster version of GPRS, was used by major carriers like AT&T and T-Mobile.
In the early 2000s, we saw the beginnings of 3G network architecture. UMTS, HSPA, HSPA+, and CDMA2000 (1xRTT and 1xEV-DO) all highlight the evolution of 3G connectivity. It's worth noting that UMTS is also known as WCDMA (though it isn't compatible with what we generally refer to as CDMA technology), but it did require carriers to put in new basestations. Therefore, CDMA carriers had to invest in new equipment if they wanted to support these capabilities.
While you may have been hearing rumblings about 5G, widespread 5G availability is still some time away. In the U.S. today, all four major cellular carriers have moved toward transitioning from 3G and 3.5G to true 4G LTE. This transition will benefit IoT device manufacturers because it simplifies the supply chain tremendously around a very capable, globally-harmonized cellular technology. Theoretically, manufacturers will no longer necessarily need to have specific devices for each network, but in practice, you will still need to get roaming agreements in place (or work through an MVNO), as well as understand specific network device certification requirements to get access to different network architectures.
CDMA Shutdown Dates
With the CDMA shutdown imminent, carriers are actively working to move customers toward a newer technology. Keep in mind, the value these carriers hold is spectrum—and at this point, 2G and 3G are inefficient allocations of spectrum. Thus, carriers are looking to refarm it and get legacy devices to LTE as soon as possible.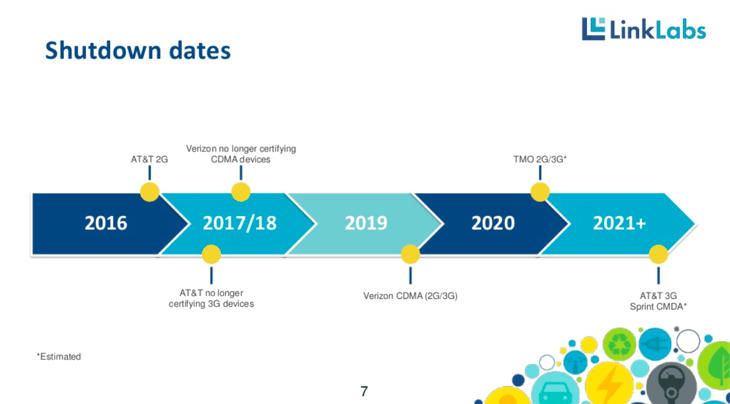 Late 2016: AT&T announced it would sunset its 2G network. The phaseout was finalized in January of 2017.
2017/2018: AT&T announced it would no longer certify new 3G devices. Additionally, Verizon announced it would no longer certify CDMA devices.
Late 2019: Verizon will sunset all CDMA devices.
Late 2020: T-Mobile will likely sunset all 2G and 3G devices (though they have made contradictory statements about this).
Late 2021: There have been no announcements about an official phase-out date for AT&T's 3G network, but we speculate 3G won't be sunset until around 2021 or later. At any rate, we recommend you look at the details of when you're guaranteed service through with your network provider.
The CDMA Sunset & Your IoT Strategy: 6 Tips & Suggestions
1. Transitioning from 2G or 3G to LTE isn't the same as simply replacing a module.
Many telematics and security organizations in the 1990s and 2000s were highly innovative and on the cutting edge of machine-to-machine communication (before it was even considered IoT). These companies probably still have legacy devices in the field that have served them well. If this sounds like your situation, you might be tempted to simply switch out your modules and keep your devices working as-is—but we encourage you to think through your long-term product strategy. What does your company want to be doing for the next 10-15 years insofar as IoT is concerned? That should be your focus, not keeping legacy devices in the market. Use this transitional period as a time to dust the cobwebs off your product development shop and start thinking about expanding your IoT offerings for the future.
2. Consider potential hardware constraints from your vendors.
You're going to want to examine all aspects of your supply chain to be certain your module and chip vendors will still produce the hardware you need in the near future. In other words, just because legacy networks are still temporarily available doesn't mean your vendors will have supplies of a product they won't be able to use after a certain sunset. Additionally, talk to your carrier and find out if they plan to limit the types of hardware that can be added to their network architecture after a certain point.
3. Find out whether you're able to transition line-powered devices to battery powered.
Some devices will always have line power to perform their functions, like ATMs, electrical meters, and vending machines. But there are plenty of devices that don't require line power (or that are inefficiently battery-powered) that could benefit from the new battery-efficient technologies on the market. Things like access controls, tracking devices, and industrial monitoring all become easier to deploy without having to wire power to them or frequently replace or recharge batteries.
4. Reconsider how you're handling device and service management.
Many legacy devices in place now were set up in the late 1990s or early 2000s, and a great deal has changed since then insofar as device and service management is concerned. Even though there may be no incremental cost in using an existing system when onboarding a legacy device, chances are you'll have to make backend changes to support new devices. Therefore, it's worth stepping back and looking at what's new as opposed to re-architecting your existing system to support new technologies. You may find that you'll save money and get more features or added simplicity.
5. Reexamine your overall IoT strategy and look for opportunities to differentiate yourself in the market.
We're not saying to simply tell your product team or design house to switch to a newer cellular module. Instead, we encourage you to use this transitional period to think about your IoT strategy as a whole, and not take lightly the challenges of product development—especially if this is something you haven't done in a long time.
Of course, rushing this process isn't ever a good idea, as there are always hiccups to deal with when creating a new product. Fortunately, there are many vendors that offer similar interface modules across the various categories of LTE. For example, they're offering compatible components for Cat-1, LTE-M, and NB-IoT, so you may get a chance to consider even lower power devices than you were previously considering.
6. Don't wait for 5G to shift away from legacy devices.
We get a lot of questions about 5G. While 5G isn't only conceptual—it's being defined by 3GPP, and there are some press releases on base stations and silicon that support some 5G features—commercial rollouts for 5G handsets are likely several years out. And after handsets roll out, mass adoption for 5G IoT devices probably won't happen for years. Therefore, we don't recommend waiting for 5G to transition away from legacy devices, unless your product needs gigabit capabilities. 4G LTE networks will be in the field through at least the 2020s.
If you're interested in learning more about your technology choices and the costs and benefits of transitioning to LTE now, take a look at our recorded webinar on CDMA technology and the 2G/3G shutdown. You can also download the slide deck used in the webinar. Watch it now!