Business partnerships can drive the entrepreneurial and business world farther than any one company could go on its own. Unfortunately, not all partnerships are mutually beneficial. That is why Link Labs is dedicated to advancing IoT solutions through partnerships that work for everyone.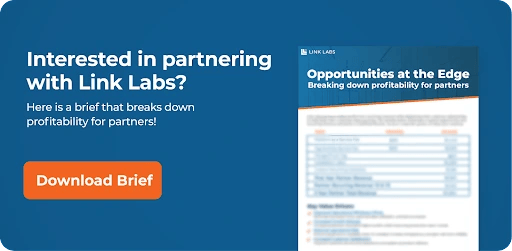 At the upcoming Channel Partners conference in Las Vegas, we will be engaging with companies looking to advance their existing solutions or services through our AirFinder solution. Stop by booth #1668 to see our solution in action for yourself.
How Link Labs' Partnerships Work
Link Labs offers various types of partnerships that provide value to many different organizations. We cater to a wide range of companies to solve unique challenges. Our mission is to provide companies a solution for complete customer satisfaction.
Types of IoT Partnerships
Curious about how you and Link Labs can work together? Outlined below are the various partnerships we offer.
Resell
Reseller partners buy and resell our products at a set price. This enables such companies to provide a solution to customers that might not have previously been available.
Technology
Together, technology partners leverage our combined technologies to enhance an overall product or service. This allows us to generate greater customer satisfaction and take existing solutions to the next level.
Referral
Referral partners are companies that pass qualified leads to Link Labs. By referring to Link Labs, you can benefit by having another stream of revenue.
Managed Service Providers
MSPs help manage a customer's IT infrastructure and end-user systems. As an MSP we would be a third-party company, tracking all assets ensures the security of all products.
Consultants
Experienced individuals who are trained to analyze and advise clients to help the clients make the best possible choices. We are not here to simply sell you a product, rather we want to be the solution, and help all customers and clients choose the right product for their needs.
Independent Software Vendors
A partner company that makes and sells products to run on one or more computer hardware operating system platforms.
---
Join the AirFinder Difference!
Innovation. Organizations can be freed up to innovate and bring more impactful products and services to market.
Profitability. Increased profitability provides new opportunities to innovate and improve valuation.
Digital Transformation. Discover competitive advantages, new revenue opportunities, improved customer relationships and increased efficiency.
---
Differentiators
Before beginning a partnership with any company, it's important to understand the core values and differentiators of the partnering organization. So, why choose Link Labs?
Improve Operational Efficiency
Efficiency can separate a good business from being the best of businesses. Our goal as a company is to help our customers eliminate time wasted on searching for lost assets.
Increase Revenue Growth
Maximizing revenue and growth is what we want to help you achieve. Our goal is to increase customer production and drive their profitability rate higher than ever before. We want to do this while helping your team with the convenience of asset tracking.
Reduce Operational Risk
Companies run long hours week in and week out. Each industry holds risk. Link Labs seeks to minimize that risk by incorporating our AirFinder system into the companies we partner with.
Increase Customer Satisfaction
Our final goal is to help our customers improve their clients' experience. We want to promote clear communication by way of our comprehensive partnering solution.
Partner with Link Labs
We do not take our partnership lightly. As we develop our products and expand our partnerships, the network of great organizations only becomes more effective and powerful. If you would like to discuss a potential partnership, please fill out our partnership request form. We would also like to extend the opportunity to join us at the Channel Partners Conference & Expo April 11th-14th, in Las Vegas, Nevada. We are excited to innovate with you.