Link Labs AirFinder is a valuable solution for various industries. With its game-changing capabilities, AirFinder is able to make tracking equipment, both powered and non-powered, easy and affordable.
With the recent increase in supply chain issues, logistics companies, in particular, can benefit from an asset tracking solution such as AirFinder. Problems surrounding client satisfaction, asset visibility, and more have all become even more crucial in today's market. Let's look at a few ways Link Labs AirFinder can make processes easier for logistics companies.
Increased Visibility
The logistics sector has many use cases in which asset tracking is helpful for not only indoors, but outdoors as well. Throughout their operations process, logistics companies are often shipping items and receiving items. This is where having an asset management system that works both indoors and outdoors can come in handy. Link Labs AirFinder Everywhere provides that ability for companies so they no longer have to invest in two different platforms. AirFinder Everywhere provides seamless integration so resources such as remote and leased equipment can be located and monitored no matter where they are in real time.
Now how does that exactly work? Simple. AirFinder Everywhere is made for easy set up and use. All you have to do is tag the item you'd like to track and monitor, and customize your settings for your specific need. These options include:
Tag Alerts: When leaving a zone, moving into a zone, or moving between zones
Connectivity Options: AirFinder Everywhere tags utilize 4 different options connectivity options; WiFi, GPS, Cellular ID, and the AirFinder OnSite network. Select them in order of priority to harmless even more battery life
Updates: Select how often you'd like the asset tag(s) to update; by doing so your asset location/condition is only checked when needed
For logistics companies, visibility can be key to making sure that time isn't wasted looking for items and instead spent on work processes.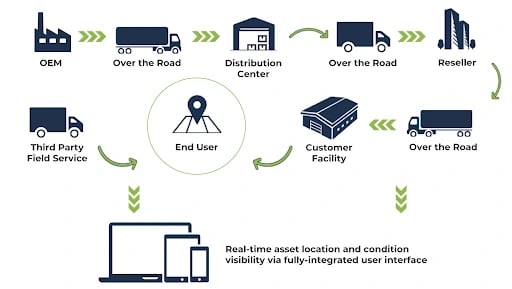 Inventory Management
No matter what type of industry you are in, inventory plays a huge role in business operations. With that said, the ability to manage inventory efficiently can make a huge impact on day-to-day processes. One benefit to improving inventory management is by better preparing yourself when consumer demand is fluctuating. By managing your asset inventory with AirFinder, you are able to strategize based on real-time data and properly forecast what's in demand. This will ultimately lead to better customer satisfaction as you are ensuring that targets can be met without having to run out of stock or have too much. The recent pandemic has shown what could happen when supply chain shortages occur. Asset management can play a big role in preventing any inconveniences for customers in the future.
---
Increase Your ROI by Investing in AirFinder Everywhere
Loss Prevention. Reduce the amount of loss that occurs during the supply chain process
Location Coverage. AirFinder Everywhere uses a combination of GPS, Cellular, and WiFi to determine location everywhere
Security Alerts. Know when a delay in shipment has occurred so the problem can be addressed immediately.


---
Customer Satisfaction
The ability to satisfy clients is key for logistics companies. As mentioned, it is important for customers to receive their items in good shape when expected. Having an asset management system allows logistics companies to provide full transparency to their clients for any upcoming shipments. Prioritizing the ability to provide on-time delivery will result in them continuing to trust in the company for future needs.
AirFinder is able to provide many benefits that can improve customer satisfaction. Sending out alerts such as proof of delivery or any delay occurrences with shipments can allow companies to communicate to receivers to avoid any confusion regarding where their package may be. By managing assets, certain improvements that need to be made will also be easier to identify for companies so they can continue to work and provide their clients the best service. Asset management also helps the sender provide better customer service by understanding where delays in shipment are taking place to better avoid them in the future.
Asset Management System for Logistics
Airfinder can provide the technology needed to enhance inventory visibility and tracking for logistics. Whether it be tools, pallets, leased equipment, etc. AirFinder can do it for you. Say goodbye to time wasted on unnecessary troubles, and focus on improving your operations instead with AirFinder. To learn more about how your company can benefit from our game-changing platform, book a demo today.