As the Internet of Things (IoT) propels indoor and outdoor real-time location systems (RTLS) to heights previously unimagined, new and ever more robust devices and solutions are hitting the market at seemingly breakneck speed. Yet despite this rapid growth, businesses continue to face a real conundrum.
They can monitor and manage high-value assets indoors, and track them outdoors, as well. But they can't do both interchangeably without having either separate systems for each setting or a big budget to work with… until recently, when we released the latest addition to our AirFinder family of products: the SuperTag.
This truly game-changing solution bridges the gap, by merging our popular indoor positioning system with the latest outdoor location technology into a single compact, long-lasting device. And in doing so, providing seamless asset intelligence at an unbelievably low cost, to effectively meet all sorts of critical business needs.
For logistics companies, that means achieving end-to-end asset tracking visibility - the end all, be all of supply chain management - while making it possible for agribusinesses to keep track of expensive farming equipment at any time, from anywhere during harvest season. The same goes for construction companies moving backhoes and building materials between storage facilities and laydown yards.
Equally important, this RTLS solution promises to be a real boon for shifting high-value medical equipment from hospital to hospital within the same system during a healthcare crisis. Or emergency response vehicles and personnel from the station into the field when a wildfire suddenly breaks out.
Five Different Location Technologies, One Amazing Device
As the saying goes, "not all technologies are created equal." In fact, when it comes to IoT-based tracking devices, there are more than a few technologies at play with different, but complementary attributes.
And in developing the SuperTag, we have optimized five of them to work synergistically in achieving continuous, end-to-end visibility - GPS/GNSS, WiFi location "lookups," Cell ID, the AirFinder Indoor Positioning Network, and Polte (which stands for Position Over LTE). Here's a short description of each:
GPS/GNSS
Pretty much everyone with a smartphone these days uses the GPS (or Global Positioning System) feature to map directions from one location to another, thanks to a network of US satellites that "talk" to technology on the ground.
What's more, these satellites work within a constellation of similar systems maintained by other nations, collectively referred to as GNSS (or Global Navigation Satellite Systems). Not surprisingly then, this powerful technology is especially useful for tracking assets outdoors.
Of course, while GPS/GNSS has its share of positive attributes, it also has its downsides, the most significant of which is that it sucks a lot of power. To solve for that, we've imbued the SuperTag with complementary technologies proven to increase battery life. But more about that below.
WiFi Location Lookups (or Wifi Sniffing) and Cell ID
WiFi networks and cell towers offer yet another option for calculating an asset's outdoor location, given that both technologies broadcast position identifiers.
In the case of WiFi, it's the Basic Service Set Identifier (BSSID). A device that employs WiFi lookups to "sniff out" location, does so by scanning for BSSIDs. So the more of these identifiers it finds, the greater the positioning accuracy. Conversely, cell ID depends on signal strength from the closest cell tower, which when picked up can also be used to suss out an asset's location.
And given that these methods are relatively power-efficient, we have incorporated both of them in the SuperTag, where they serve as either GPS backup in some outdoor environments or GPS alternatives to ramp down power consumption where possible.
Polte
In developing our game-changing device, we partnered with the Polte Corporation - another innovator in the field of real-time location solutions. That alliance enabled us to incorporate Polte's proprietary, patent-protected technology, Position over LTE, as one of the five essential SuperTag components.
Put simply, by facilitating cell tower triangulation, this technology produces accurate GPS-like location data, indoors and out, while consuming far less power than GPS.
What's more, Polte integration makes it possible for SuperTag to provide some level of indoor visibility without any additional infrastructure, a really important feature to have if your assets are moving into facilities you don't control or simply want to avoid additional infrastructure costs.
AirFinder Indoor Positioning Network
And last, but certainly not least, SuperTag is compatible with our AirFinder Indoor Positioning Network, which powers our holistic indoor tracking system AirFinder RTLS.
Without getting too technical, this network works with the help of Bluetooth beacons - independently of WiFi and existing IT infrastructure - which makes it an accurate and affordable technology for calculating indoor location and asset condition.
The SuperTag Advantage
It goes without saying that in choosing a "right fit" asset management solution, you will need to weigh the options within the context of your unique needs, based on each solution's key attributes.
And after optimizing its design over the past several years and sailing through the beta testing phase, the bottom line is clear: AirFinder SuperTag offers more than a few critical advantages - or as we like to call them, SuperPowers.
SuperTag is ingenious.
In fulfilling our commitment to provide you with the biggest bang for your buck, we developed a system that is truly ingenious - the first of its kind, so to speak. For one thing, it incorporates just the right combination of technologies to ensure seamless tracking in real time, from any location - indoors or outside - and under any condition.
For another, each SuperTag provides two-way messaging between the device and the cloud for continuous position monitoring and reporting. It also carries an IP66 or better rating, one of the highest levels of electronic device protection against airborne particles and liquids.
Equally impressive, this system supports Firmware-Over-the-Air (FOTA) upgrades to keep its capabilities continuously up to date. And we have created a cutting-edge "fuel gauge" of sorts for measuring battery life by the number of location transmissions or "pings" remaining - a big improvement over the voltage method commonly used in other battery-powered tags.
SuperTag is flexible.
To begin with, this device empowers you to control its configuration. Maybe you want it to "talk" more frequently; or select a WiFi network as its preferred outdoor location technology; or even monitor an asset's condition with add-on capabilities that sense humidity and pressure, operability and shock.
Moreover, to keep all of your assets in a designated space, you may want to create geofences that trigger alerts whenever they are breached. Likewise, this system automatically transitions between appropriate technologies - without breaking a sweat - as your assets move around tall buildings, under bridges, or through tunnels.
As for global operation outside of the US, we can say with certainty (because we have run the physical tests) that AirFinder SuperTag works in Canada, Mexico, Spain, and Taiwan, as well.
And although we haven't tested its use beyond those countries, the SuperTag should operate in any location with LTE-M connectivity.
It's also worth noting that we have global roaming arrangements, which increase the odds that it will work in the other 37 countries that currently claim this connectivity.
SuperTag is power-efficient.
When it comes to indoor and outdoor location, power efficiency determines battery life - and the AirFinder SuperTag is as efficient as it gets.
Indeed, as an intelligent device, the SuperTag is designed to amp up or reduce power consumption levels, as needed, to extend that life as far as it will go without compromising information reliability and location accuracy.
So let's say you configure it to prioritize power-hungry GPS for outdoor positioning. Given our best estimate, your batteries will probably last at least a year or even more, under the right conditions.
On the other hand, if you favor WiFi (which is generally less accurate, but far more power-efficient), you'll get well over two years of battery life - and maybe as many as three. But regardless of how you set it up, the SuperTag's power efficiency is a function of the synergistic interaction among the five technologies it incorporates.
So, you have the power in your hands, so to speak, to configure each SuperTag according to your individual business needs.
SuperTag is compact.
We've all been told that "good things come in small packages" - a truism if ever there was one when it comes to the AirFinder SuperTag. In fact, this groundbreaking product currently comes in two compact sizes - although we are currently working on developing a third, even smaller version.
But for now, the smaller tag is about 2.9" x 2.8" x 0.9," while the larger one (which has a better battery life and packs an IP67 rating) measures 3.3" x 4.7" x 1.35." For context, they are pictured side-by-side below (but be sure to adjust for the size of your computer screen).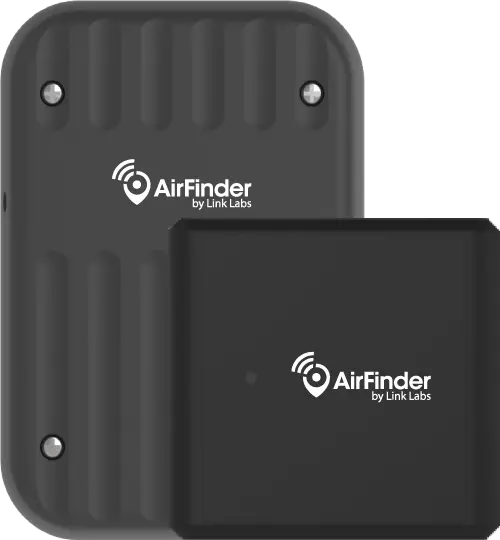 SuperTag is affordable.
Given its power-efficiency, user-controlled configuration, low monthly pricing schedule, and seamless intelligence, AirFinder SuperTag is one of the most affordable real-time location solutions out there. Indeed, you can't go wrong if you are tracking assets valued upwards of $1,000 or more, across indoor and outdoor locations.
To Sum It Up…
As the first of its kind indoor/outdoor RTLS to provide end-to-end visibility, the AirFinder SuperTag combines five distinct indoor and outdoor location technologies - GPS/GNSS, WiFi location lookup, Cell ID, POLTE, and our own AirFinder Indoor Positioning Network.
These technologies work hand-in-hand, transitioning from one to the other, as needed, thereby empowering you to monitor and manage your high-value assets in real time, from anywhere, under any environmental condition.
As such, its power-efficient design features flexible, user-controlled configuration; an IP66 or better rating; and exceptionally accurate asset intelligence at an exceptionally low price.
We invite you to explore the "next frontier" of indoor/outdoor RTLS for yourself by contacting us for more information, and look forward to helping you meet your unique business needs.