In order to meet continuous and growing demands for higher production and reduced costs, oil and gas companies worldwide are thinking creatively. And this task is every bit as difficult as it sounds. But innovative Internet of Things (IoT) technologies are making this shift possible for many producers. Within this article, we'll explore the methods that oil and gas companies use for monitoring, how these methods are changing, and what these technologies are capable of.
Methods Of Smart Oil & Gas Monitoring
The oil and gas industries have used IoT for a long time—perhaps longer than most industries. They've utilized the following methods of monitoring:
Programmable logic controller (PLC) systems

. These are essentially wired IoT communications, and they are used frequently in the industrial field. The challenge with collecting data using wires is that someone has to lay and bury those wires, and that process can become quite expensive. Additionally, the architecture of these wired systems is more complex—so once you build a PLC system, you're stuck with it. Frequently, these systems use

serial communication standards

(like RS-232 and RS-435).

Satellite communications

(such as Iridium and Inmarsat). These methods can be extremely expensive. However, since the oil and gas industries traditionally had such high margins, the costs were often justified.

Physical monitoring

. Employing individuals to physically walk around and monitor levels and measurements by hand is something many oil and gas companies still do. The benefit to this method is it is relatively straightforward and easy to implement, and there is a history of training to go along with these methods. On the other hand, the time and labor costs associated with this type of monitoring can be very high, especially in remote locations (like where many oil and gas wells are located).
As you can tell, each of these solutions has a variety of benefits and considerations to take into account. The main considerations are:
Price

: The cost of setting up a wired system is typically quite high.

Complexity

: There are typically a great deal of satellite communication links, for example.

Time

: Direct monitoring of oil and gas fields takes substantial effort and manpower.
As the machine-to-machine (M2M) market has grown and expanded over the past several years, some oil and gas companies are looking to take what used to be wired and make it wireless, so they can further consolidate their connections. Wireless IoT solutions allow these companies to do things in a more ad hoc way. For instance, they're able to add 100 sensors in a single well, and then add another 1,000 sensors when they deem necessary. This is far easier with wireless technologies than it is for PLC and other wired systems. Note: Because the process of monitoring wells is highly complex with a lot of moving parts (and a lot of value), it may not always make sense to use wireless technology—even if it's available. This can only be determined on a case-by-case basis.
How IoT Technology Is Shaping The Oil & Gas Industries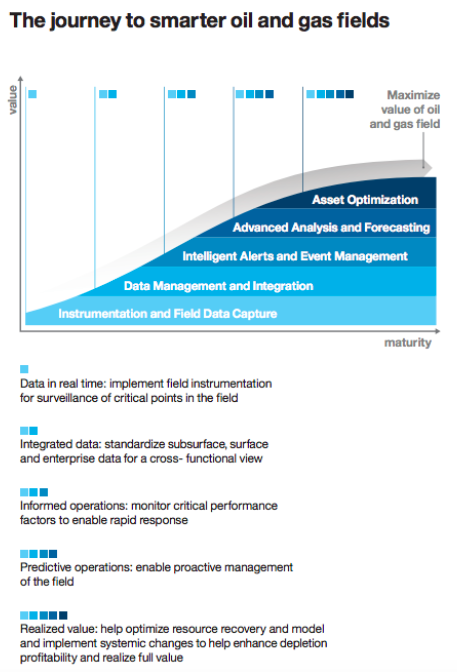 It's important to note that IoT isn't revolutionizing oil and gas like it has in other industries, but it is making it a lot easier for companies to collect vital information, which has led to more informed business decisions. Connected wireless technology is helping the oil and gas industries:
Optimize

for efficient pumping activities.

Maintain

the pipes and wells.

Monitor

equipment failures and gas leaks.

Monitor

pipe thickness, temperatures, and erosion in a refinery.
Wireless IoT allows companies to monitor more things using sensor-level technology, take fewer readings by hand, and gather more data and information in order to better optimize business processes. We can't speak to what's going on behind the scenes with big data, but we can speak to the fact that sensor-driven IoT can make the process of gathering this data substantially easier.
For instance, it's important for even a small oil company to have solid well optimization to increase its profitability. If the company is drilling a new well, it has to inject chemicals into the well to keep rocks from building up, which provides viscosity to pull the rocks up as the company is drilling. Once the well is online and producing, the company has to do a balance of pressure, make sure its temperatures are correct, ensuring its extracting the right quantities of oil, and so on. When there are more data points about the microscopic conditions in a well (ranging from temperatures, pressures, rates, chemical compositions, viscosity, etc.), the company is able to collect the data it needs, run post production analysis, better optimize its current and future drilling processes, and hopefully increase its market share and profitability.
This is reminiscent of industrial control systems and their progression toward wireless. Like oil and gas, industrial automation has been around for a very long time. These companies began using original wired IoT technologies to drive costs down and connect parts of their controlled networks. But as wireless sensor automation became more prevalent in the market—and thus, more accessible—these companies could use wireless sensors to connect more easily, capture more data, analyze that information, and improve their processes.
Constant Evolution
Smart oil and gas have been, and will continue to be, long-evolving processes. The Internet of Things didn't dramatically change these fields, but wireless technology does put gas and oil companies at a unique advantage. In fact, we believe they are well positioned to make some of their biggest strides now that connecting "things" is cheaper and more advanced than ever. If companies can collect information (and thus, run further data analysis) with a limited number of endpoints, imagine how much could be done with more granular information.