You've probably heard of machine-to-machine (M2M) technologies being put into all kinds of devices—but they're also being put in the trash. It's for a good reason, though: smart waste management.
There are two innovative functions of smart waste management: operational efficiency and waste reduction. Below, we'll give an introduction to both of them, and further explain why these functions are so important for waste management service providers of all types.
1. Reduce the amount of time and energy required to provide waste management services.
Although public services and waste management companies have been around for a long time, they have seen only limited innovation with operational efficiency—until the last few years. One big problem that they've faced is that it is better to pick up trash receptacles too often than to allow something like this to occur: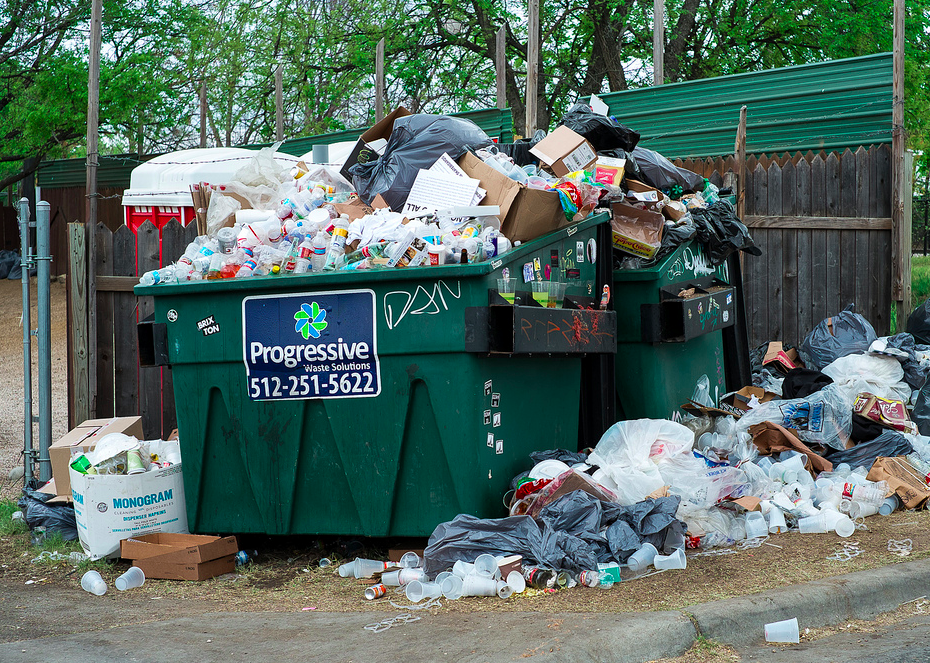 They could only do so much to improve route efficiencies, while still meeting the needs of their customers. Even with great route optimization, the sanitation specialists must still physically go to the dumpster to check trash levels. Because of this, trucks often visit containers that do not need emptying, which wastes both time and fuel. But with the rise of the Internet of Things (IoT), smart sensors and sensor-level M2M technology have begun popping up in all kinds of places—including trash receptacles.
A great example of an innovative waste company is Enevo. They have created a proprietary dumpster sensor and software system that, when placed on the lids of garbage receptacles, can "talk" to the waste management company. It can tell them whether the container is at full capacity, when it needs to be emptied, what temperature the container is at, and more, allowing the sanitation specialists to work more efficiently and cut unnecessary costs. Additionally, the sensors can help the company forecast when a dumpster will be full, allowing them to plan ahead future routes. Enevo claims that these increased efficiencies can cut costs by up to 50%.

While Enevo specializes primarily in trash receptacles, the same line of thought can apply to portable toilets, waste oil from restaurants, or even smaller trash and recycling bins within an office building. Borrowing from the latter example, a janitorial service wouldn't necessarily need to empty each trash can on a fixed schedule, and could instead wait to empty the can until it is actually full. As you can see, this can cut down labor costs dramatically.
2. Reduce the amount of waste created.
The other side of smart waste management deals with managing the sheer quantity of waste created on a daily basis. Consumers and businesses toss millions of pounds of garbage each year. Educating these entities on how to reduce waste is particularly important for municipalities, who must pay for the landfills and waste removal services.
This topic is a bit more complex; it goes beyond the need for IoT-based sensors, and more towards an efficient purchasing process. In the U.S., consumers waste about 30%, or 133 billion pounds of food each year! This could be dramatically reduced with the right M2M applications in place, which could help with things like asset and material tracking. Using the right IoT technology, a grocery store could use asset tracking to quantify the exact amount of food they regularly sell, cut back on waste, and reduce spoilage This is a bit different than what we traditionally think of as waste management, but the "upstream" waste problem is massive, so it's worth addressing.
From a consumer perspective, the makers of smart refrigerators and other appliances may eventually be able to bring this technology into the home. These smart products will soon be able to alert consumers when their food is going to spoil, or when they're running low on key provisions. This allows them to consume their purchases before they go bad, become more aware of the foods that they purchase and eat regularly, and eventually turn into more conscientious shoppers.
How can you implement smart waste management?
Both private waste management services and municipalities can benefit from smart waste technology. For a small upfront cost in a sensor technology, you can increase your operational efficiency and cut costs in multiple areas. With the cost of these technologies steadily decreasing—and plenty of wireless technologies available to make smart waste possible—your company can stop throwing cash and efficiency in the trash and make a solid business case for this type of investment.