Each company has different reasons why they could benefit from implementing a system for tracking and monitoring assets. Many take the first step by implementing a Real Time Location System (RTLS) pilot. But what criteria should be used to determine if the pilot is worth further exploration? The answer is data. There is a difference between using an asset tracking system to gather data and then using that data to take action. Actionable data and insights are an essential part of any organization's asset tracking strategy. Here are some ways that Link Labs' AirFinder data can help your company.
Location Mapping
Location mapping is used to show where on a map each tag is located. Each company uploads a map of their facility or chooses an area of an outdoor map. The tag locations will show up on each map based on xyz coordinates.
This integration is not used often but is available to those who want access to it. This is an app that takes the data from a company's database and puts it into a reporting structure.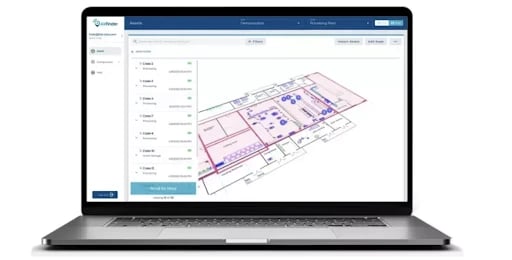 Zone Tracking
You are able to define geofences for each work zone. Set-up alerts to be notified when tagged equipment is moving from one zone to another.
Embedded Sensors
Link Labs' SuperTags (as part of AirFinder) enable users to monitor critical data such as temperature, humidity, acceleration, and more. Through this information, users are more empowered to access data beyond just location tracking to make more informed decisions about the materials and assets they want to monitor.
---
Join the AirFinder Difference!
Innovation. Organizations can be freed up to innovate and bring more impactful products and services to market.
Profitability. Increased profitability provides new opportunities to innovate and improve valuation.
Digital Transformation. Discover competitive advantages, new revenue opportunities, improved customer relationships, and increased efficiency.
---
Battery Usage
Through the AirFinder UI, users can quickly visualize remaining battery life of asset tags. This helps ensure you never lose sight of your assets through being able to plan ahead to replace or recharge batteries.
Overstocking or under stocking inventory can be a major pain point for companies. By being able to visualize how much inventory you have on hand, you can both quickly locate what you're looking for and see if you need to order more materials.
API Integration
API is a software integration system that allows the AirFinder UI to be used within existing systems. API connects two systems together so information can be transferred between them with ease. AirFinder stores data in the tags and the tag reports the information through our patented software to provide an API call.
How Can Link Labs Assist You?
One of the strengths of the Link Labs' AirFinder system is the user interface that provides easy-to-understand data. Having a visual of equipment and inventory in real-time is key to maintaining workplace operations. When critical equipment is needed, our asset tracking system will ensure that you will quickly find it. If you are looking for an RTLS solution for your operations, then AirFinder might be the right solution. Feel free to book a demo and learn more.