What is an IoT platform?
At a high level, an Internet of Things (IoT) platform is the support software that connects edge hardware, access points, and data networks to other parts of the value chain (which are generally the end-user applications). IoT platforms typically handle ongoing management tasks and data visualization, which allow users to automate their environment. You can think of these platforms as the middleman between the data collected at the edge and the user-facing SaaS or mobile application.
IoT platforms are often referred to as middleware solutions, which are the "plumbing" of the IoT. Generally, an IoT or M2M solution is a mashup of functions from multiple vendors, which include:
Sensors or controllers.
A gateway device

to aggregate and transmit data back and forth to the data network.

A communications network

to send data.

Software for analyzing and translating data.
The end application service,

which creates much of the value.
These solutions can collectively be referred to as the value chain of IoT. (And when you talk about an IoT platform, you're typically talking about some part of numbers 3-5.)
Considerations In IoT Platform Selection
The Internet of Things is an inherently complex networking environment, and thus, the need to automate data tasks at scale has thrust a number of IoT platform players into the market.

The kind of platform a company needs is a more difficult question to answer, because it depends on several factors. These factors include whether specific hardware, protocols, real-time access, custom reports, and more are needed.
Before deciding which solution may be right for your organization, you must determine:
1. The budget, developmental skills, and capacity of your in-house team.
While every company would like to be able to afford the Cadillac of IoT platforms, sometimes they can only afford the Civic. If that's the case in your organization, you need to know that going in—then try to work within your budget. Consider the following:
Provider costs aren't always straightforward.

A lot of IoT platforms provide you with introductory teaser rates or show off the prices for their base model—then when you go to subscribe, you realize it's ten times as much for the features you need.

It's critical to be transparent about your budget with your platform provider

. The provider wants to make the sale, but if they know you can't afford certain features, they probably won't try to push them.

You licensing cost for the platform is just the beginning

. With development, the cost of integration, and the cost of hiring consultants to onboard into the system if you can't do it yourself—you could be looking at a major expense. Take this into consideration beforehand.
2.
Your business model
and the specific needs that must be met.
The ideal situation for a company would be to cash all of the checks for someone else's hard work—but, of course, this isn't a reality for most. In order for you to extract money from your customers, you have to add value somewhere—you can't just repackage a platform that already exists. You need to understand where your biggest value is in the value chain and focus on that. Then figure out which platforms feed into it. For example:
If you're building an end device and your value is in selling hardware, then you may want to buy an IoT platform with an upfront license fee. That will allow you to wrap that cost into your hardware.

If you have a subscription model with a lower upfront cost, you may want to wrap the IoT service charge into your customer's subscription costs.
Be sure you also consider your IoT platform's business model. How is your IoT platform charging you? Is it based on data usage, users, nodes, or something else entirely? This can impact your business model—so ask the questions early, before you select a provider.
3. Which is more critical—your time or your money.
Another consideration is whether companies are trying to save money or save time. Platforms that are going to save time are likely more expensive in the long run, and platforms that will save money might be more difficult to integrate upfront.
For example, last week Amazon announced its new Amazon Web Services (AWS IoT), which is likely based on technology acquired from 2lemetry. This IoT platform is an example of a money saver. It is simply middleware that acts as a messaging system. It is pretty well fleshed out and inexpensive for what you get, but there's still a lot that will need to be built. Platforms that are more highly integrated—like ThingWorx from PTC—might be more costly, but they will offer many more features that will decrease your time to market.
In our opinion, the most successful platforms will likely be coupled tightly with the distribution of hardware companies that offer a platform on top of the actual connectivity hardware.
3 Types Of IoT & M2M Platforms
There are three main types of platforms, and we've ordered them here from most sophisticated to least sophisticated:
Application enablement and development

: This includes platforms that offer templates, modules, or widget-based frameworks in order to create actual end-user applications. These platforms can quickly turn data into either intelligence or action. This is a big space with all kinds of players, from players like

Oracle

, to

Wot.io,

to

ThingWorx

.

Network, data, and subscriber management

: In the wireless carrier and mobile virtual network operator (MVNO) space, these platforms are trying to simplify connecting cellular M2M data, so you don't have to build much of the data infrastructure behind it.

Cisco

and

Aeris

, for example, do network management

and

device management, while

Jasper

and

Wyless

do more pure network management.
This chart from First Analysis shows the various functions, features, and components by platform type: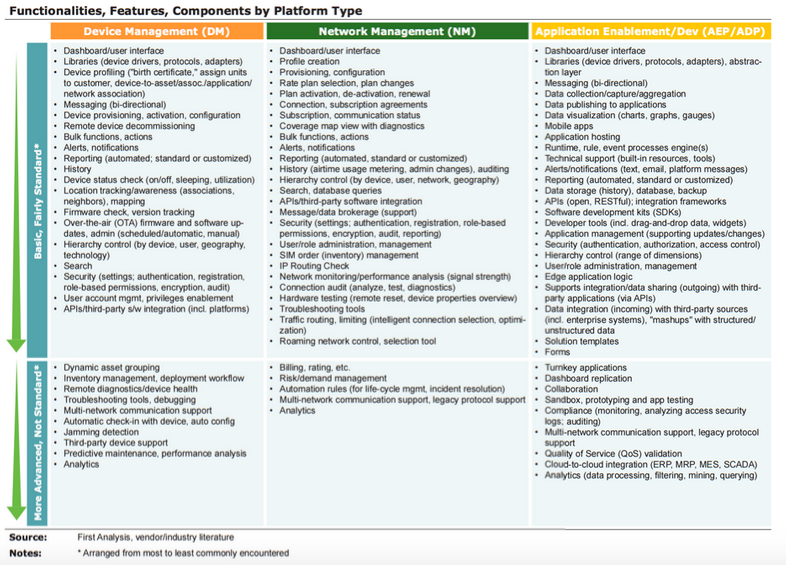 IoT Platform Type Convergence
Many of the IoT platforms on the market today handle bits and pieces of all three types—and this is both good and bad.
If you're starting from scratch, you might be able to get further quicker by selecting a platform that can cover device management, some network management, and some application enablement. However, if you've already built something or are trying to piece together disparate platforms, managing an IoT platform with overlap can make integration more difficult.
Consider this scenario: One solution you like may have a better user interface and not do as much on the device management side. But in order to utilize the device management piece, you have to use the less-sophisticated user interface. This kind of trade-off may be a deal breaker!
Therefore, it's extremely important to brainstorm what your complete IoT system will look like at scale and select which features are most important to you first—then decide what platform type you need.
Many companies do this backward. They look at the IoT platform and trust they're getting the complete solution they need—then realize the mistake six months into development. So it's critical to be aware of this before you get started.
A Final Note
It's important to understand that many companies aren't using IoT platforms—they're developing their own platforms in-house. But, depending on how you want to go to market, it may be smart to research pre-built options. Depending on your situation, you may save a lot of time and money by partnering with one of these platforms.