Things go wrong unexpectedly in manufacturing plants, but sometimes issues go undetected until it's too late. And as a result, production processes are on hold. Many companies facing these issues have begun to look toward a solution and have found preventative maintenance reports through asset tracking systems a helpful way to mitigate future problems. Before we dive into how asset tracking systems can be used for preventative maintenance, let's first review the topic of predictive maintenance.
What is Predictive Maintenance?
Predictive maintenance can be conducted through a real-time location system (RTLS). As the RTLS scans the surrounding environment using pre-programmed settings, it can identify when something will need maintenance. Over time, historical maintenance records can begin to detect when machinery issues are about to occur, thus providing AI-based algorithms to predict when maintenance will be needed.
---
Increase Your ROI by Investing in AirFinder OnSite
Low Cost. AirFinder OnSite XLE is a fraction of the cost of competitors' pricing.
Long Battery Life. XLE lasts up to 7 years with hundreds of location updates daily.
Increased Efficiency. Spend less time looking for assets, and more time being productive.
---
Predictive vs. Preventative Maintenance
Preventative maintenance occurs on a set schedule. Whether or not the machine needs maintenance at that moment, preventative maintenance notifies personnel when a scheduled maintenance should occur to try to avoid future equipment failures.
Predictive maintenance is based on historical data and current conditions to determine when maintenance will need to be done. Real-time analytics accurately predict the condition of the equipment and provide a balance between fixing a problem before it gets worse.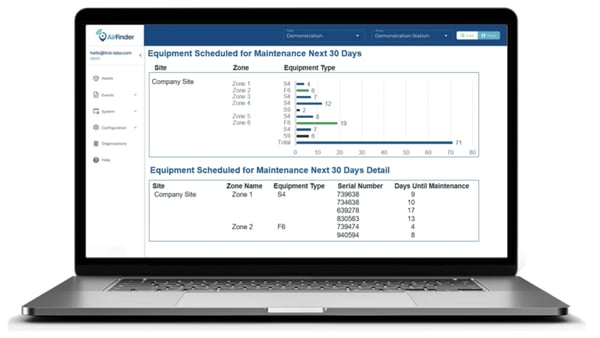 The display above shows a maintenance planning dashboard. This type of report allows users to conduct maintenance on time to avoid machine downtime. In turn, this is one way an RTLS can be used to conduct a mix of both predictive and preventative maintenance.
How Can Link Labs' Asset Tracking System Help?
Asset tracking systems like the Link Labs AirFinder solution provide data analytics and reporting features to more easily conduct maintenance tasks. Customized Tableau® reports take data from a database of tagged assets and puts it into a reporting structure. This data can include equipment maintenance history. Additionally, the UI provides real-time insight into asset location.
To learn more about AirFinder's capabilities and how it can help your company, book a demo with us!