Wi-Fi is a popular technology choice for calculating the position of an asset tag for a real-time location system (RTLS). The use of Wi-Fi indoor positioning systems has advantages and limitations over other location technologies, like Bluetooth, ultra-wideband (UWB), or ultrasound. Some customers, especially users in healthcare RTLS, have found using existing Wi-FI systems to be problematic to achieve the desired accuracy goals for their RTLS solution. Wi-Fi is used in four different ways for location determination, and each approach has its own set of advantages and challenges.
---
Related: Here's an overview of various indoor positioning systems.
---
Wi-Fi fingerprinting is an approach to indoor asset tracking where the location and base station ID (BSSID) of each Wi-Fi access point (AP) in a building is recorded as part of a survey. An asset tag then scans the Wi-Fi environment and reports the list of Wi-Fi APs and their associated signal strengths. The database from the survey is then used to estimate the tag's likely position. This is also how smartphones often estimate their position when they are in areas where GPS does not work, like inside buildings. There are many databases of Wi-Fi APs, including https://wigle.net/.
Check it out and see if your home or office Wi-FI is in there. You can see the Link Labs office in this picture, but we're actually on the other side of the street.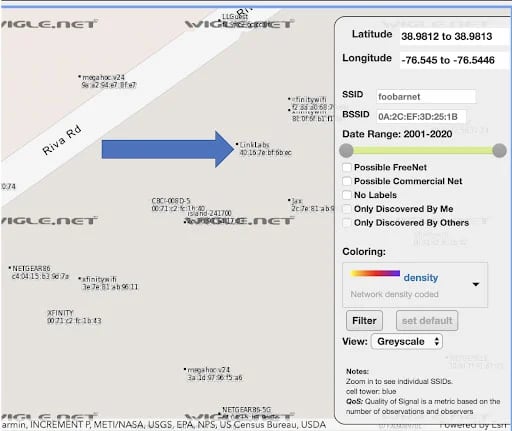 Ensuring Wi-Fi Positioning System Accuracy
(Spoiler: It's tough)
The advantage of fingerprinting is that it's a cheap and easy way to get location information from existing Wi-Fi infrastructure. However, in order to get any type of room-level accuracy, a survey must be conducted with specialized equipment. RTLS companies that use fingerprinting usually offer this as part of provisioning the system. However, when equipment is swapped or moved, the survey is no longer valid, and this will ultimately become an ongoing maintenance issue for the RTLS system.
An improvement over simple fingerprinting is the use of RSSI-based multilateration, which is using the signal strength of all detectable Wi-Fi APs along with knowledge of their location to calculate position. In most cases, this is accurate to around 4m or at the room level, assuming there are enough APs. In parts of buildings with less AP coverage (especially at the end of halls, for example), there simply isn't enough data to determine location. Errors in pinpointing a room or floor are therefore common in these areas.
More advanced Wi-Fi-based RTLS systems use time-of-flight (ToF) based triangulation, which is when packets sent to and from asset tags (or other devices, like workers' phones) are timestamped by multiple Wi-Fi APs. If the APs have tightly synchronized clocks, the time differences can be used to calculate position. These systems require specialized Wi-Fi infrastructure that must be installed in sufficiently dense layouts to support RTLS. These systems are among the most accurate but require costly Wi-Fi systems. More APs need to be installed than would be needed just for data usage. Walls (especially those in large buildings like hospitals) can add to the multipath problem, which can degrade the accuracy of ToF-based RTLS.
A similar approach to ToF is angle of arrival (AoA), where the angle at which a given Wi-Fi transmission was received is calculated using something called a multiple-input multiple-output (MIMO) antenna, which clusters antennas together to increase range and throughput. MIMO antenna systems are common in some enterprise environments. Sometimes, systems use a combination of ToF and AoA, which can result in very accurate location. AoA systems have the additional concern that they need to be installed in a certain orientation to work correctly. They suffer from the same noise, sampling artifacts, and multipath channel effects as TOF does, but the requirement for clock synchronization is less of an issue.
One last concern for Wi-Fi indoor positioning systems, in general, is that tags must have a Wi-Fi transceiver installed inside them, which makes them more costly (and bulkier) than Bluetooth, IR, or ultrasound. Link Lab's AirFinder RTLS system uses a combination of Bluetooth and Ultrasound instead of Wi-FI, but it's important for customers to understand the alternatives for RTLS.
If you have any questions, we're here to help.
---
Learn more about WiFi and other indoor asset location technologies in this whitepaper