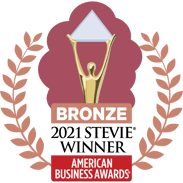 Link Labs, a leading provider of an end-to-end IoT platform for locating, managing and monitoring equipment, supplies and assets anywhere at any time, today announced its AirFinder SuperTag product has won a Bronze Stevie Award in the category of Best New Business Technology Product for Supply Chain Management.
The award was announced at the 19th Annual American Business Awards®, an annual U.S. business awards program. Nicknamed the Stevies for the Greek word meaning "crowned," this year's awards program received more than 3,800 nominations from organizations of all sizes in a wide range of categories.
"This year's Stevie-winning nominations in The American Business Awards are testament to the ingenuity, the commitment, the passion, the adaptability, and the creativity of the American people," said Stevie Awards president Maggie Gallagher.
AirFinder SuperTag is a first-of-its-kind commercial IoT tracking device that blends five different technologies – GPS/GNSS, WiFi location lookup, Cell ID, Polte®and Link Labs' AirFinder Indoor Positioning Network – to provide continuous, end-to-end visibility of assets in both indoor and outdoor environments. It seamlessly transitions from one technology to another, as needed and depending upon conditions, and allows for flexible configurations, based on the unique requirements of each specific application. It can be deployed in minutes and is uniquely power-optimized to last years in the field without needing to change batteries.
Comments about AirFinder SuperTag by the Stevie Awards judges include:
AirFinder SuperTag is a truly innovative solution. The IoT asset tracker merges the very best of indoor and outdoor positioning technologies into one device for seamless asset tracking and intelligence.
The innovative AirFinder SuperTag device blends the best of both indoor positioning and outdoor tracking technologies into a single, long-lasting package in a compact size.
AirFinder SuperTag is a great blend of technology used to conserve the power on the IoT device.
Unlike GPS-only trackers, AirFinder SuperTag sips, rather than gulps power.
AirFinder SuperTag is offered at Amazon as a "Pro Evaluation Kit," a low-risk way for businesses to try out the technology and see how it can track and protect assets and reduce costs. On sale for $749, AirFinder SuperTag Pro Evaluation Kit includes everything a business needs to quickly get up and running -- four (4) AirFinder SuperTag Pro tags; four (4) indoor, battery-powered location beacons; one (1) AirFinder SuperTag mounting bracket; batteries and other necessary mounting hardware; and a free 90-day AirFinder web app trial (which includes cellular data usage).
To browse a complete list of 2021 Stevie Award winners in all categories, go to: https://stevieawards.com/aba/2021-stevie-award-winners.
As part of this win, Link Labs has been automatically entered into the People's Choice Stevie Awards. Nominations go to the products and services favorited by those who vote. Cast your vote now for the AirFinder SuperTag by clicking the logo below or by visiting the award website here and entering the shortcode Q760B.


About Link Labs
Link Labs provides the industry's most complete, end-to-end IoT platform for tagging, locating and monitoring equipment, supplies and assets. With more than 20 patented technologies, its flagship platform, AirFinder, helps companies in nearly every industry locate, monitor and manage business assets anywhere at any time – indoor, outdoor and everywhere in-between. Through the seamless integration of innovative software and hardware, AirFinder is proven to reduce IoT deployment times from months to days while lowering cost of ownership by 50-90%. Trusted by top global enterprises for their essential IoT solutions, Link Labs is based in Annapolis, Md. and was founded in 2014 by a group of veteran engineers from the Johns Hopkins University Applied Physics Lab, who had worked together on a variety of projects for the U.S. Department of Defense, the U.S. Intelligence Community and the telecommunications industry. For more information, visit https://www.link-labs.com/ and follow on Twitter @LinkLabsInc.
Read the press release on PRWeb.com.