BY CLAIRE SWEDBERG
For approximately $10 a month, companies can employ Link Labs' SuperTag Hub to track the conditions and locations of goods moving through and between facilities, or to and from worksites.
Jan 18, 2022 - Link Labs has released a low-cost Internet of Things (IoT)-based solution known as the SuperTag Hub, which leverages data from off-the-shelf Bluetooth Low Energy (BLE) sensors and a mobile gateway device known as the AirFinder SuperTag that communicates with those sensors. The cloud-based software-as-a-service (SaaS) system provides visibility into the status and location of goods on the go, whether those products are located on trucks, inside a facility or in a storage yard. The solution is designed to work anywhere there is a cellular connection, the company reports. This low price and mobile functionality is what the firm calls a "breakthrough for indoor, outdoor and on-the-move asset tracking."
The hub solution is designed to enable the tracking of items that move as a group, such as equipment within an ambulance, tools carried by contractors or maintenance personnel to remote locations, or time- or temperature-sensitive inventory that passes through multiple facilities, according to Robert Proctor, Link Labs' CEO. In a typical deployment, he says, users need only off-the-shelf BLE tags, attached to goods, and a SuperTag device that travels with them as they move indoors, outdoors or on the road. This gateway device includes LTE-M connectivity to transmit data to the cloud, Wi-Fi and GPS to provide positioning, and BLE to capture tag transmissions.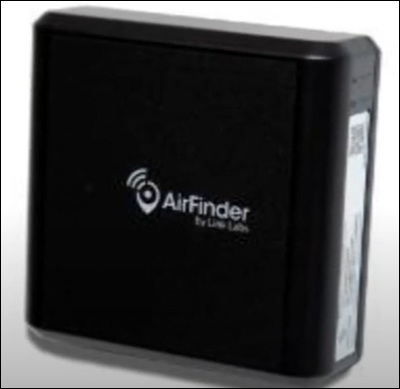 The AirFinder SuperTag
The gateway can accommodate up to 1,000 BLE tags, Link Labs indicates, by capturing their unique ID numbers and any sensor data at designated intervals. The technology was developed to solve a problem centered around the high cost of collecting location data wherever assets move. Traditional IoT solutions can be too costly for those tracking relatively low-value items, Proctor says. To enable wide-scale IoT adoption, he states, "I think of the IoT as being about affordability." Many wireless sensors can be too large, bulky or expensive for monitoring low-value assets, he adds, especially if they are moving. So for Link Labs, the question was, "How do you lower the cost of finding and monitoring low-value mobile assets?"
The AirFinder SuperTag at the center of the solution was released in August 2020. The device not only incorporates LTE-M cellular connectivity, GPS and Wi-Fi, but also uses BLE indoors as part of an AirFinder Indoor Positioning Network for more granular location data. The system includes an accelerometer and an IP68-rated enclosure. The AirFinder SuperTag was initially built to provide a single point of connectivity. It can be attached to a single asset or to a piece of inventory, and it can then communicate data regarding its own location. In some cases, however, the technology to track an item may cost more than that product's value.
Therefore, Link Labs built a constellation system of low-cost BLE tags, married to a single AirFinder SuperTag, which acts as the gateway rather than as an independent tag or sensor. Early applications for the system include the management of service vehicles in which high-value equipment might be stored or transported. For instance, a SuperTag could be installed inside an ambulance. Assets such as defibrillators, stretchers or high-value drugs would then each be tagged with BLE tags, typically the size of a thumb. At preset intervals, the SuperTag would capture data from the BLE tags and transmit it, along with its GPS location, via LTE-M cellular connectivity.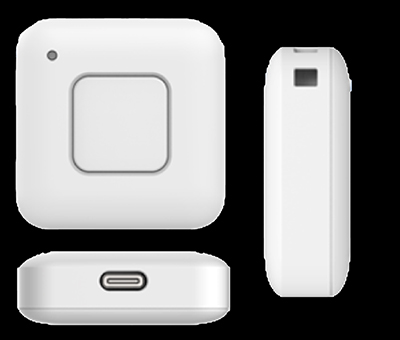 The AirFinder cloud-based software that comes with the SuperTag Hub solution enables managers to oversee each ambulance's location and confirm that all necessary equipment is loaded within that vehicle. To conserve battery power, AirFinder software users can configure the power and transmission methodology according to their particular use case. They can further reduce energy consumption by leveraging the accelerometer on the SuperTag to transmit data only while it is in motion, or the device could transmit less often when stationary.
The SuperTag can also identify its location via Wi-Fi. For instance, if a vehicle or container being tracked comes within range of a Wi-Fi router, the transmission method could automatically shift to collecting location data in that manner, rather than via more power-hungry GPS. This feature helps to lengthen the battery life, the company explains.
In addition, the system can provide more granular indoor location data by allowing the installation of fixed BLE beacons that communicate with the SuperTag device to form what the company calls AirFinder RTLS. For example, users could install beacon devices at a set of loading docks or at the entrance to one zone of a distribution center. The beacons would then transmit their unique ID numbers at fixed intervals. When the SuperTag came within range of those beacons, it would capture that data and calculate its location based on signal strength and angle of arrival.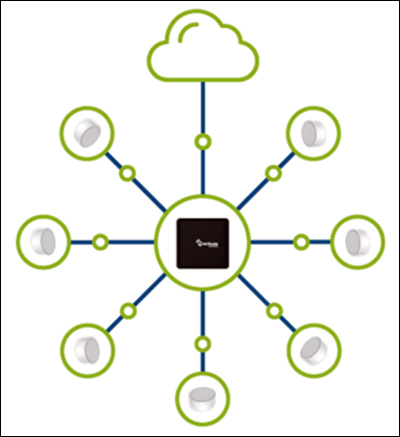 The software provides alerts in real time, according to predetermined settings. For example, AirFinder alerts can be issued based on predetermined requirements, such as if a vehicle stops or is unloaded, if expected assets are not located near the hub, or if a vehicle with the hub system installed within it reaches a specified location. Even if no BLE tags are detected, the SuperTag will send an uplink with its location. Intuitive filter parameters determine how frequently tag data will be sent to the cloud.
The cloud-based software then determines whether a tag is "active" or "lost," enabling users to view assets in real time and thereby automate loss prevention, compliance and analytics, for the purposes of improving process efficiency and inventory management. For example, by tracking the average amount of time specific products travel through the supply chain, as well as the movement of vehicles and which ones are most efficient, with bar graphs or other data on a dashboard, users can adjust their operations to make their work more efficient.
The SuperTag gateway device typically costs about $10 per month for service, including the analytics, reporting and dashboard. While the SuperTag was released in March 2021, the hub functionality was taken live at the end of last year. The software can be accessed via an app so that operators can view data in real time and correct problems in the field. In the case of an ambulance, if a driver starts to drive away from a site and is missing an item, that employee can receive an alert indicating something the problem.

Robert Proctor
Businesses currently piloting the SuperTag Hub solution include a food company that is tracking the movements of its containerized goods as they are received, processed at its own facility and then shipped. The SuperTag enables the firm to know where the temperature and time-sensitive products are in the supply chain before they arrive at its site. Once the tagged items arrive, the hub transmits data via AirFinder to locate a pallet of products onsite within a more granular location area, such as a specific zone in the facility. "In that way," Proctor says, "we get complete visibility, both inside and outside."
The system could also be used for COVID-19 vaccine management, the company says. For this kind of application, BLE tags and sensor probes would be applied to kits of vaccines loaded onto reusable pallets. A single SuperTag would be attached to each pallet, and the tags would capture data from the BLE devices indicating not only each kit's presence, but also its temperature. This ensures that vaccines remain within the appropriate temperature range, while tracking where they are located along the supply chain, as well as whether they're inside a truck, on a loading dock or within a DC.
If multiple temperature sensors are used, management can determine whether conditions have fallen outside of acceptable parameters for a single kit, or for all kits on a given pallet. In that way, the system can reduce the need to discard kits that may have met the necessary temperature requirements. Moreover, the solution works with other sensors, such as shock detectors, to identify any sensitive inventory that may have been subject to damage.
Additionally, Proctor says, the technology can be used to locate pallets and other returnable assets by identifying where they go in a group, as well as when they may end up in an unexpected location. Link Labs is currently in discussions with multiple companies about deploying the technology.
Read the article on RFID Journal.