BY BOB PROCTOR
From digital transformation to the survival of key players, here are the trends to watch for this year.
Apr 24, 2022 - It would be an understatement to say that COVID-19 has impacted industries across the globe. Now, two years into the pandemic, trades are still shifting and adapting to how to best align with the new age and meet industrial demands. Many adaptations and technological developments have surfaced—and, of course, many more trends and challenges are expected to come with the new year.
Derived from the many trends seen throughout the past year and the developments that are still in store to launch us forward, there are six major industry trends we can expect to observe in 2022. From the critical demand for digital transformation to the survival of key industry players, here are the trends to keep an eye out for this year.
Digital Transformation and Criticality
The urgency for digital transformation is much higher. The increased consumer demand in most industries, the retirement boom and the labor shortage have all forced businesses to become more efficient. Having visibility into processes, inventory, materials flow and labor productivity is critical to maintaining efficiency.
Disruptions throughout the global economies are a trend driver, but COVID-19 has exacerbated some of the other issues that were already impacting and transforming how corporations do business in several ways. For example, consider the baby boomer demographic and how the skilled trades gap affects the labor market. The demand for talent has become highly competitive and is outpacing supply.
Increased inflationary pressures are driving up the cost of labor and labor efficiency, while increasing the urgency behind the notion of needing to do more with fewer people and resources. These factors further push toward the demand for increased levels of automation and enhanced Internet of Things (IoT) solutions to improve operational efficiencies.
Supply Chain Challenges
The need for visibility to help meet supply chain challenges will become an essential part of solving these issues. Industries struggling the most with supply chain challenges will need to re-address their IoT strategies to remain ahead of their competitors or fall behind. We're seeing companies start to recognize that this is as much of a threat as it is a problem.
It's an enormous opportunity to implement solutions for visibility in the supply chain, resolve issues faster, win market share and restructure what qualifies companies as industry leaders. Businesses can seamlessly identify bottlenecks and proactively eliminate disruptive pain points by having even more visibility into the supply chain. Implementing IoT asset tracking is critical to coming back with an even more robust, more comprehensive IoT solution.
The Democratization of Asset Tracking
In many industries, such as healthcare, asset tracking has been around for nearly 20 years, but it has historically been too expensive for small and mid-size organizations. As this technology becomes more affordable, more small and mid-size organizations now realize they can afford it and understand its benefits.
As consumers have increasingly recognized the value of asset tracking, the technological and innovative capabilities have made the solution more scalable and affordable so companies can track more assets. This creates new market opportunities and develops industries in which tracking is being deployed for higher-value assets. The demand for monitoring and locating assets has become more accessible and more necessary than ever before.
Strategic Initiatives Outpacing Point Solutions
In the last two years, many companies have adopted pilot point technology solutions, such as asset tracking, to solve one use case. Companies now realize that these solutions can be implemented for multiple use cases, such as infrastructural use of temperature monitors and utilization of shock-detection capabilities. Expect to see further shifts to focus on higher-level digital transformation initiatives instead of one-off projects.
More organizations are widely adopting the development of this extensible solution and strategic push, and people are beginning to recognize the actual value of IoT in today's technical landscape. When companies realize the technology solutions in which they have already invested, and with which they are now familiar, can help solve various other pain points, they will double down and increase efficiencies in their operating procedures. This will then lead to reduced overall costs and savings for the companies.
Market Maturation in Both Returnable and One-Way Asset Tracking
There is an increasing need to track items that may not be of very high value on their own, regardless of whether the asset tags are disposable, or the assets will return. Returnable supply chain assets like crates, carts, totes, etc., tend to flow in loops from producers to distributors to retail stores, then back to the producers. Monitoring this process becomes its own IoT platform, the same as it would be for higher-value, one-way asset tracking, by which producers may need to follow the health and status of each asset until it arrives at its final destination.
When considering the democratization of asset tracking, remember that the cost of the technology has come down; it has become more viable to track items of lower and higher value. Additionally, the asset-tracking industry remarkets for returnable assets, depending on the logistics required for each specific use case. Teams now have the opportunity to recover and reuse tags, or to continue monitoring the same assets until those items have successfully reached their destination.
The Emergence of New Business Models
The ways in which industries operate are changing, as are who takes risks and where those risks lies. Organizations need to manage risks differently than before in order to drive new business models. For example, think about food spoilage with the current supply chain challenges. Previously, manufacturers usually took the risks, but now it may lie more with distributors. The visibility capability plays a considerable role in risk insight and further drives the demand for new business models and improved asset management.
The new challenges' value is that organizations can learn from them. Embracing these challenges and creating new processes to overcome them will be critical to remain competitive and ahead of the competition. There will never be a dull moment regarding asset management and IoT tracking. Technological advances will continue to surface and disrupt the process of how operations once were. Producers that readily progress with the ever-changing times and adapt will stay ahead of the competitive market.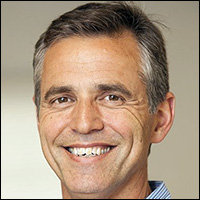 Bob Proctor is the co-founder and CEO of Link Labs, a leading provider of an end-to-end IoT platform for tagging, locating and monitoring equipment, supplies and assets anywhere at any time. With a Ph.D. in applied physics and 25 years of entrepreneurial and business leadership, Proctor is also a founding principal of Blu Venture Investors, a venture capital investment company that supports early-stage entrepreneurs in the mid-Atlantic region of the United States, which gives him a unique point of view on a wide range of emerging technologies and their novel applications and potential market viability.
Read the article on RFID Journal.