The world of asset management has long faced a difficult problem. You can track and manage assets indoors. You can track things outside. But you either need two separate systems or a very big budget.
Until now.
The IoT asset tracking landscape is ready for the next revolution. In answering the call, we at Link Labs have come up with a truly innovative solution we call the AirFinder SuperTag.
This indoor/outdoor asset tracker merges the very best indoor positioning system and outdoor positioning technology into one, long-lasting device, to provide seamless asset intelligence. That means having the capacity to track valuable assets from the warehouse to the yard; the hospital to patient homes; the factory floor to the front door… and everywhere in between.
How The AirFinder SuperTag Works
Basically, the SuperTag incorporates five technologies that are optimized to work hand-in-hand in providing continuous, end-to-end visibility - GPS/GNSS, WiFi location "lookups," Cell ID, the AirFinder Indoor Positioning Network, and POLTE (Position Over LTE).
---
Get everything you need to experience seamless indoor/outdoor asset tracking with the AirFinder SupertTag >>
---
Let's discuss each one briefly:
GPS/GNSS
Everyone is familiar with GPS by now thanks to the ubiquity of smartphones. To dig a little deeper for the sake of clarity, GPS, or Global Positioning System, is a network of US satellites orbiting the earth that communicate with technology on the ground to establish location.
The US isn't the only game in town though; other countries maintain similar systems that are referred to collectively as GNSS, or Global Navigation Satellite Systems. Without getting into the details of interoperability, it's all pretty powerful stuff when it comes to GPS asset tracking.
The biggest downside to GPS/GNSS is that it's very power intensive (more on that below), which is why we've added complementary technologies to improve battery life.
WiFi Location "Lookups" (a.k.a. WiFi Sniffing) and Cell ID
WiFi networks and cell towers both broadcast identifiers and can be used in asset tracking hardware, among other things, to calculate location.
WiFi networks constantly broadcast a Basic Service Set Identifier, or BSSID. Devices that use WiFi lookups to determine location are scanning for these BSSIDs and, once found, can roughly pinpoint a position. The more BSSIDs that a device finds, the more accurate the location calculation.
Cell ID, on the other hand, relies on signal strength from the closest cell tower that each SuperTag is communicating with and infers location accordingly.
Both of these methods are fairly low-power, making them attractive backups to GPS for outdoor localization. In some cases, they can actually be accurate enough to use as alternatives to power-sucking GPS.
POLTE
As a proprietary, patent-protected technology produced by our SuperTag partner, POLTE, it enables cell tower triangulation, which in essence, generates accurate GPS-like location data, both indoors and outdoors.
What's more, in accomplishing this objective, it consumes less power than GPS, simply because it uses cell signals to calculate location. And thanks to PoLTE integration, the SuperTag will furnish at least some indoor visibility independent of additional infrastructure, should your assets enter a facility you don't control.
AirFinder Indoor Positioning Network
Without getting into the nuts and bolts of how AirFinder RTLS works as a holistic indoor asset tracking system, the underlying cellular AirFinder Indoor Positioning Network operates in the unlicensed radio spectrum independently of WiFi and existing IT infrastructure.
The AirFinder SuperTag is compatible with this technology as well and is able to calculate indoor location and position accordingly.
Key Attributes
In describing the AirFinder SuperTag, here are the most important attributes:
Power-efficient. Unlike GPS-only trackers, the AirFinder SuperTag sips, rather than gulps power. In fact, as an intelligent device, it incorporates multiple strategies for determining whether it's worth consuming the power.
From WiFi sniffing to accelerometer based "bump" detection, all of these strategies are used to infer motion before activating the tag. Consequently, each AirFinder SuperTag can last for years before replacing its battery.
Unique. Our engineers have come up with just the right combination of leading-edge positioning and backhaul technologies, capable of remotely transmitting signals at very high speeds from anywhere, in real-time. On top of that, this system supports Firmware-Over-the-Air (FOTA) upgrades to ensure that its capabilities are continuously evolving.

Equally impressive, while most vendors will talk about battery life in terms of voltage - which in a vehicle is akin to measuring maximum distance in gallons of fuel, rather than miles traveled - we have created a sophisticated fuel gauge of sorts that calculates "pings" remaining instead of simply battery voltage.
Flexible. AirFinder SuperTag configurations are user-controlled. Want it to talk more often? It can. Want it to prioritize a WiFi network as the preferred location technology instead of GPS? It can do that, too. And if you have no cell coverage, you can still take advantage of the AirFinder network.

So, let's say you need measurable precision, but are in a remote area out in the middle of nowhere. AirFinder SuperTag will then use AirFinder location beacons to make that happen. And if you need to ensure your assets stay in one place, it provides you with the capacity to create geofences, as well as alerts if assets leave.
Comprehensive. We believe in providing the biggest bang for the buck when it comes to asset tracking solutions. That said, the AirFinder SuperTag's design is all-inclusive:
Two-way messaging between the device and cloud
Multiple location technologies that provide seamless tracking anywhere (indoors and out) and under any condition
An IP66 or better rating, one of the highest levels of ingress protection with respect to dust and airborne particles, water and liquids
Continuous location monitoring and reporting from the cloud
Global operation and coverage
Affordable. Given its low power consumption, user-controlled configuration, seamless intelligence, and low monthly pricing schedule, AirFinder SuperTag is one of the most affordable real-time location solutions on the market today for tracking assets valued upwards of $1,000 (or assets that are intrinsically invaluable) - not to mention being the only indoor/outdoor asset tracker.
We've optimized the design over the past few years and recently sailed through the beta testing phase. We are launching for general availability with excellent results. While we have a whitepaper, press releases, webinars and all sorts of stuff planned to get the word out, here are a few of the questions we've gotten the most so far:
How Long Does the AirFinder SuperTag Last?
That depends a LOT on how you'd like to configure each SuperTag as well as which size we're talking about (at the time of writing, we have two sizes with another smaller one in the research and development phase). So we'll give a thorough, middle-of-the-road explanation here and invite you to reach out with more questions.
If we're talking about a very average application where a tag is configured to favor GPS for outdoor location monitoring, you'll most likely get at least a little over one year out of the batteries and as much as about 1.8 years if you have decent GPS coverage. If you're favoring WiFi (which is less accurate/impossible in certain conditions), you'll get well over two years out of your batteries, possibly closer to three.
To paint some context here, we've created a chart to show our test results of power consumption for a single location update of each technology the SuperTag relies on relative to weak GPS as it's the most power-hungry method by far.
This testing was completed on the larger of the two models (more info on dimensions below). As you can see, poor GPS consumes over 100x as much power as Cell ID to get a single location update.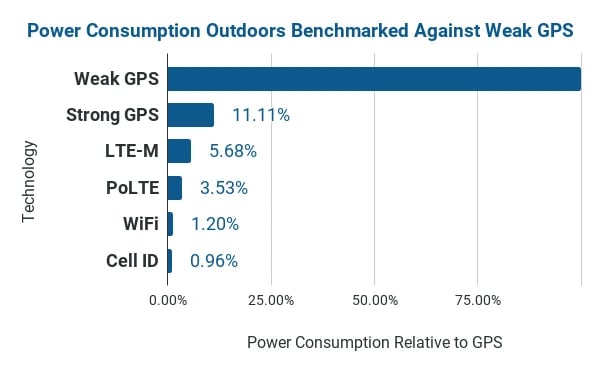 This doesn't mean that you should configure your tags to only use Cell ID because your batteries will last for 100 years. (Sleep current limits the battery life to 4-5 years.) You probably wouldn't have a very accurate depiction of asset location if you use only one of these methods anyhow - even GPS-only. And calculating battery life is more of an algorithm than basic multiplication because a lot goes into it.
One of the key differentiators of the AirFinder SuperTag is that all of these technologies work in concert to give you location information that's more reliable than a typical GPS tracker you'd find elsewhere, and can be tuned/optimized for your specific application.
The point is, if you'd like better battery life and are willing to sacrifice location updates, you can configure each SuperTag accordingly. As we've developed this product over the last couple of years, battery life has been a leading consideration, and we wanted to ensure our customers have a very high degree of flexibility.

Learn More: Download the white paper "Worlds Finally Collide: Indoor/Outdoor Asset Tracking" to learn more about the AirFinder SuperTag


What are the Dimensions?
Fortunately, this answer is MUCH more straightforward than the last one! The smaller of the two tags we currently offer is about 2.9" x 2.8" x 0.9".
And the larger one (with better battery life as tested above) is 3.3" x 4.7" x 1.35". For reference, here they are side-by-side, to scale (though size will vary, of course, according to your screen size):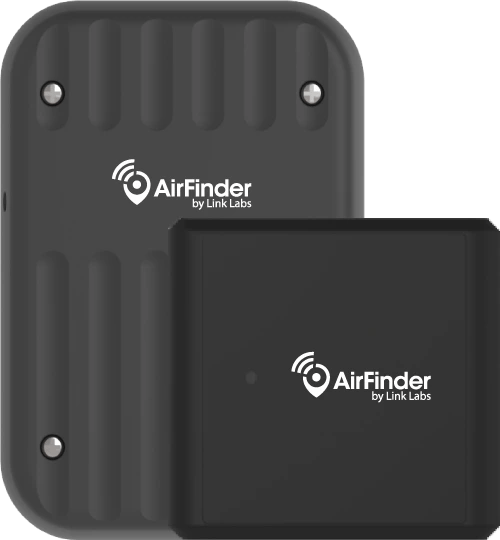 Does the AirFinder SuperTag Work Outside of the US?
Yes, but coverage is limited to countries that have LTE-M connectivity (at the time of this writing, 37 countries). We've also only physically tested in the US, Canada, Mexico, Spain, and Taiwan.
We have global roaming arrangements, so chances are if you have LTE-M coverage, our device will work, but outside of the US we recommend more coverage testing before commercial deployment. In short, if you're outside of North America, Spain and Taiwan but inside of a country with LTE-M infrastructure, we'd be happy to test with you.
Wrapping Up…
Just to recap, this "first of its kind" product blends five different technologies to provide seamless and accurate location tracking, both indoor and outdoor - GPS/GNSS, WiFi location lookup, Cell ID, POLTE, and our own AirFinder Indoor Positioning Network. As such, it transitions from one technology to another, as needed, depending upon environmental conditions, while also allowing for flexible, user-controlled configurations, based on each customer's unique requirements.
We at Link Labs couldn't be more excited to bring the AirFinder SuperTag indoor/outdoor asset tracker to the masses. If you have other questions or are wondering how the device would work for you, please contact us.