There's an age-old hypothesis that the very art of writing was invented to document the buying and selling of goods and keep track of accounts. While modern society has obviously gone far beyond the clay tablets or quill and ink of old, a simple asset tracking spreadsheet, barcode solution, and/or good, ol' pen and paper are all contemporary equivalents in one way or another.
With the advent of writing, one of the first things ancient merchants and businesses discovered was that keeping up with inventory is hard. To survive and thrive, they needed sales records, and thus, the ledger was born.
We'll walk through some basic methods that get the job done - especially if you're just getting started or are light on budget. It's worth noting, however, that none of these methods will squarely address outdoor asset tracking.
Recommended Reading: [Explained] What Is Asset Tracking and Related Questions
From Quill and Ink to Pen and Paper
Even though our world differs vastly from the days of yore, the things we need to record and maintain actually do not.
Then and now, businesses have pursued increasingly more sophisticated methods of measuring and managing incoming shipments, raw materials and inputs, finished goods, tools and equipment, and other valuable resources. But it all comes back to the simplest of tools: pen and paper.
For centuries, this basic toolkit has played a significant role in asset and inventory control for businesses of all types and sizes – from the trading houses of Venice and Hamburg to Industrial-era manufacturing operations. In fact, it was the only option available until data automation emerged.
Businesses could type up the results, but the counting all happened manually. Likewise, this method was more than sufficient when it came to controlling resources used for building all types and sizes of capital goods.
Although we typically don't think of pen and paper as a technology, it is by definition, given its practical application for tracking inventory, with the help of diligent employees trained to monitor and accurately record each transaction.
But for the most part, the pen and paper method is not only time-consuming and difficult to scale, it is also prone to simple errors. Given the incredible speed at which things are made these days, paper records simply can't keep up. For example, a 650 square foot home can be 3-d printed in 24 hours!
Moreover, pen and paper asset tracking becomes increasingly more unwieldy at greater scale. It's certainly possible to count the number of items in a small grocery store, but what about five small grocery stores, or 50 or 1,000?
And what about a warehouse for an industrial manufacturing facility, which receives parts and materials every day; keeps an inventory of them for expected manufacturing needs; and is also sending shipments to the plant daily?
You could use pen and paper, but then you'd have to collate all the ins and outs daily, while double and triple checking the numbers to ensure that they are right. Needless to say, in today's business environment the problems of scale, data integrity, real-time accuracy, and distance would become instantly overwhelming.
So efficiency has largely "written" this method out of existence.
What Comes Next? Barcode Asset Tracking
The next big asset inventory management system was launched in grocery stores, as they made the transition from pen and paper to a barcode solution.
Believe it or not, barcodes were invented in 1949. The first 1D barcodes were a combination of thin and thick lines representing numbers that a visual scanner could interpret. And, at first, these tracking stamps were round. Here's a snippet of the original patent application.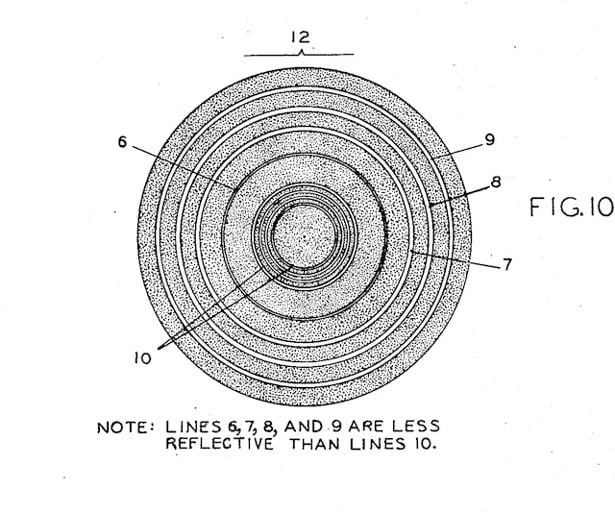 Despite the challenges of pen and paper, it took more than 20 years for grocery stores alone to adopt barcodes. But it didn't take long for them to become ubiquitous across the grocery manufacturing landscape, as the first form of automated asset identification technology.
Once established, barcode inventory systems quickly made their way into the mainstream of manufacturing, logistics, warehousing, and retail. Combined with the ability to store data about assets in computer-accessible files, barcodes were far superior to pen and paper when it came to scalability, efficiency, and accuracy.
Workers no longer needed to know each and every item by sight. What's more, unlike the pen and paper method, barcodes averted the unintentional faults of human error, like miscounting or transcription mistakes. And they can be easily affixed to anything that needs an identification number.
Then Came the Asset and Equipment Tracking Spreadsheet
With the introduction of more sophisticated spreadsheets and the Internet, the data created using barcodes for inventory management and asset tracking enables real-time stock and asset location.
If items are scanned as they enter and exit the inventory system, barcodes can provide accurate and timely tracking information. Plus, barcodes have become more advanced over time, transforming from their original configuration of lines to the QR codes of today, capable of relaying hundreds of times more information.
Every package delivered by UPS or FedEx has a version of the barcode that is used to mark its transition from one stage in the delivery process to another. Each of these actions are entered into a database, which can then be viewed as an asset tracking spreadsheet.
These spreadsheets can be updated in real-time with all new entries and, if stored online, the latest data in the system can be viewed by anyone, from anywhere. And as a side note, if you're using spreadsheets, that puts you in Stage 2 of digital transformation on the IoT asset management spectrum.
Where pens revolutionized quills (and ultimately rendered them obsolete), spreadsheets are very much antiquating traditional ledgers for companies with little to no budget. The benefits of asset tracking under this scenario are:
1. Free Asset Tracking
Almost everyone has a computer, and nearly every computer has access to free or low-cost spreadsheet applications, like OpenOffice, Google Sheets, or Office 365. So as long as you can type with relative accuracy, free asset tracking is possible with spreadsheets.
2. Super Quick Visualizations and Other Math
Spreadsheets are really good at making and graphically displaying even the most complicated calculations. Indeed, there are tons of inventive things you can do with a spreadsheet, like charting orders of a particular item over time.
With thoughtful planning and one of today's ever more sophisticated spreadsheet tools, you can quickly tally and capture just the right amount of valuable data, using rich and reliable visualization features (also known as charts and graphs) to show trends and patterns.
3. Basic Integrations
You can also integrate those charts and graphs into other apps or use third-party apps to do more with your data. For example, you could develop a system for sending a notification when a new row is added to your spreadsheet.
And if you use a scanner for fixed asset tracking, you can pull basic identification data about your assets directly into your spreadsheet.
Naturally, the next evolutionary step with spreadsheets, barcodes, and QR codes is the capacity to correlate the location of the reading device with the date and time-stamp of an asset's last entry into the spreadsheet.
For example, smartphones are good for scanning QR codes, given that the reading device can record the asset's location at that exact time, thereby improving the richness of the asset tracking data. So, you not only know that an asset has entered or left a facility, you also know where and when this transaction took place.
Of course, like pen and paper, scanning devices – whether handheld or installed – are prone to human error. Customers and employees alike can unintentionally skip scans, miss scans, forget to scan, or scan more than once. Human-led data entry is susceptible to error with each successive, manual step in the inventory and data entry process; and every asset transfer from shipping to receiving, or from one company to another.
Conversely, each advancement in automation and asset tracking technology has been designed with the goal of reducing error, speeding data creation, and achieving real-time data input and processing. State-of-the-art asset tracking solutions combine data access and analytics to achieve the next big step toward error-free data collection and retention.
These technologies make it possible to determine the identity of the assets themselves, as well as their location and condition, without the help of machines like a stationary barcode reader. They also remove the need for manual data collection with a barcode scanner or smartphone.
Instead, assets are monitored with an asset tracking tag, and location data is generated automatically without any additional human action. There are myriad tag options available, differing by cost and/or application.
Once a company reaches that real-time threshold, the underlying data and analysis (POS reports, sales velocity, inventory levels and thresholds, automated triggering of stocking orders, etc.) dramatically improves efficiency and lowers costs.
To be sure, the universe of inventory control technologies continues to evolve, with a variety of selections, ranging from asset tracking spreadsheet applications and barcodes, to sophisticated real-time asset tracking software, to that old standby pen and paper.
And each company's needs are different, depending wholly upon the value it requires and the resources it has available - whether human or financial.
So, if you have questions about which technology is right for you, drop us a line.