When most people hear the term logistics, they think of transportation. Although that is a function of logistics, there are many other functions. Logistics executives must make decisions such as:
Containerization
Documentation
Storage
Importing and exporting regulations
Freight damage claims
Collaborating with other executives within the supply chain
Risk mitigation
Companies often implement asset tracking and monitoring systems to help with these functions. And when Apple announced the AirTag, many companies started researching ways to adapt these tags to their logistical functions. Companies quickly began finding reasons why the AirTag is incompatible for enterprise needs.
The Apple AirTag is Expensive to Attach to Containers and Pallets
Individually, AirTags are not designed to attach to anything. So, how could one go about using these tags to track assets? You would have to buy keychains, eyeglass straps, and hard-shell mounts. Although Apple prices range from $12.95 to $449, many third-party suppliers sell these accessories. Decorative accessories may have extrinsic value for individual consumers, but they are not designed to be attached to commercial containers and pallets.
In contrast, the AirFinder Everywhere (or the SuperTag) is specifically designed for commercial asset tracking needs. The SuperTag can meet your business-specific needs to track assets indoors, outdoors, and everywhere in between. Although these tags need brackets to be attached to another item, the price range is between $6 and $7.48. Once a bracket is attached to a container or pallet, a SuperTag can easily be popped in and out. These brackets are reusable and can withstand industrial use cases.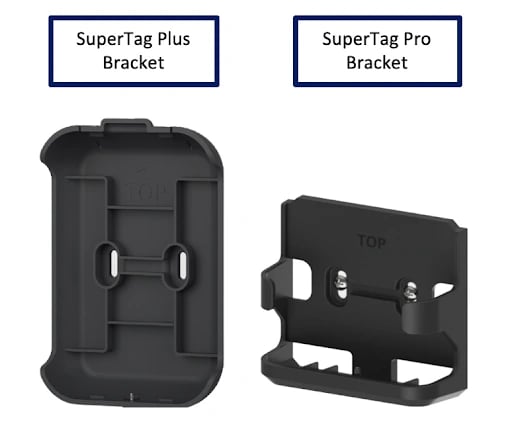 The Apple AirTag has Poor Power Management
AirTags use both Bluetooth LE (Bluetooth Low Energy) and UWB (Ultra-Wideband) technologies. AirTags are only meant to be used occasionally by individual consumers. Such as when an item is lost, and you want to know its whereabouts. AirTags will last about one year with occasional consumer usage. If used at the industrial level, they would only last a few days. That is because most logistics companies need to track an asset's location hundreds of times a day to provide real-time visibility.
AirFinder uses patented technology for either proximity-based or phase-ranging technology. These technologies allow for the reduction of unnecessary battery usage. For enterprise-level usage, AirFinder Everywhere is a practical and cost-efficient choice. SuperTags batteries can last up to seven years with industrial level usage.
---
Increase Your ROI by Investing in AirFinder Everywhere
Loss Prevention. Reduce the amount of loss that occurs during the supply chain process
Location Coverage. AirFinder Everywhere uses a combination of GPS, Cellular, and WiFi to determine location everywhere
Security Alerts. Know when a delay in shipment has occurred so the problem
can be addressed immediately.


---
The Apple AirTag has Limited Monitoring Capabilities
The only type of monitoring that the Apple AirTag can do is location monitoring. And even that is limited to the proximity of other Apple devices. When it comes to condition monitoring, the AirTag is not very helpful.
AirFinder Everywhere tags have sensors that monitor temperature, acceleration, humidity, shock, pressure, noise, or carbon monoxide. They integrate both the sensor data and location data into one easy-to-use IoT platform. Being able to monitor the conditions of your assets and receive real-time data from AirFinder's UI software can reduce operational costs and increase productivity.
The Apple AirTag has Limited Tracking Capabilities
Although the "Find My" app is a relatively functional solution for consumer asset tracking, it has many limitations:
AirTags can only be tracked by an Apple device.
An AirTag can only be tracked by one Apple device at a time.
Each Apple device can only track up to 16 AirTags.
An AirTag location can only be determined if another Apple device is nearby.
That said, the SuperTag can determine its location in real-time. Each individual SuperTag is a combination of an AirTag and an iPhone – all in one. In addition, the SuperTag location can be seen via any cell phone and computer. This includes simultaneously sharing the location of multiple tags to multiple devices. In addition, there is no limitation to how many SuperTags can be tracked at each moment.
Closing Thoughts
The Apple AirTag was created for consumer use and can be trickier to implement for logistical functions. Theoretically, it is possible, but managers would run into many limitations. Why not opt for a tag designed to scale at the enterprise level?
At Link Labs, we provide the best fit solution for your industry. If you would like to see how AirFinder Everywhere works, request a demo today.