Bluetooth technology has changed the world by allowing two completely different electronic devices to communicate efficiently. Bluetooth has been integrated into more than 8.2 billion products produced by over 30,000 Bluetooth SIG members worldwide. Similar to Bluetooth, Bluetooth Low Energy (LE) operates in the 2.4 GHz band. The difference between the two is that Bluetooth LE remains in sleep mode unless a connection is initiated, so it extends the battery life of Bluetooth LE devices.
At Link Labs, we have pioneered a Bluetooth solution to bring companies the most energy-efficient, affordable, and sustainable solution. We understand that Bluetooth has evolved into many different versions throughout the years. So let's take a deeper dive into the evolution of Bluetooth LE, and how it affects your business.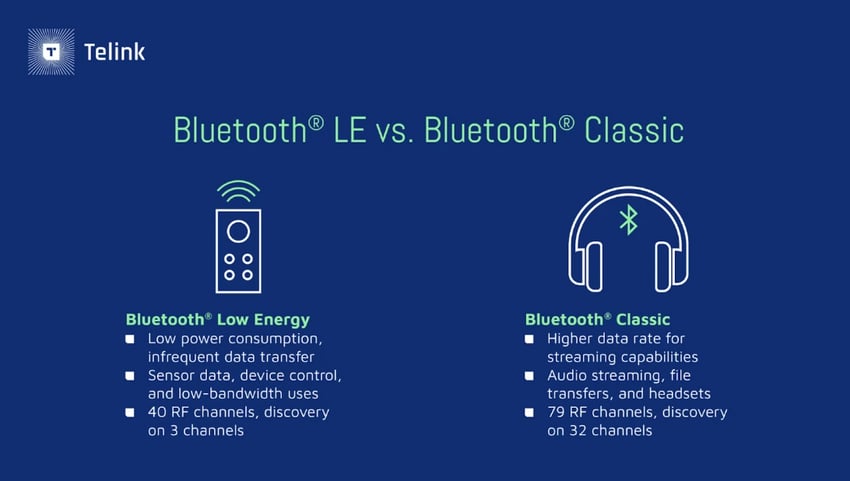 What is Bluetooth 4.0 LE?
Let's begin by defining Bluetooth LE and showing how it revolutionizes productivity and efficiency through asset tracking. Bluetooth LE was first introduced in 2011. With its low-energy consumption capability, Bluetooth LE has become a game-changer compared to the Bluetooth devices of the past. Its low-energy consumption capability allows applications to run on a small battery for an extended amount of time. Bluetooth LE is highly beneficial for industries in need of tracking devices with battery efficiency.
---
Increase Your ROI by Investing in AirFinder Everywhere
Loss Prevention. Reduce the amount of loss that occurs during the supply chain process
Location Coverage. AirFinder Everywhere uses a combination of GPS, Cellular, and WiFi to determine location everywhere
Security Alerts. Know when a delay in shipment has occurred so the problem can be addressed immediately.


---
Bluetooth Hierarchy
Bluetooth LE has evolved rapidly throughout the past few years. It has evolved through 4.0, 4.1, 4.2, 5.0, 5.1, and 5.2, and now it is Bluetooth 5.3. The first 4.0 version launched the Bluetooth LE system in the IoT industry.
One can see that Bluetooth has evolved into two different beings: Basic Rate/Enhanced Data Rate (BR/EDR) and Low Energy (LE). Bluetooth BR/EDR allows continuous wireless connection and uses a point-to-point (P2P) network topology in establishing one-to-one (1:1) device communications. At the same time, Bluetooth LE enables short-burst wireless connections and uses multiple network topologies, including P2P, broadcast, and mesh. Although BR/EDR can provide a few advantages for companies, the fact that Bluetooth LE provides low energy consumption gives it a significant advantage over BR/EDR.
As time advances, your company can expect more growth and advancements from Bluetooth LE. Bluetooth LE will continue to inspire advancements that fit the individual needs of companies around the world.
Advantages of Bluetooth LE
Bluetooth LE provides an extensive amount of benefits in the IoT industry. Without Bluetooth Low Energy, the IoT would not be where it is today. Here are a few extra advantages that Bluetooth LE provides to the Internet of Things industry:
Visibility
By equipping assets such as equipment and tools with Bluetooth LE tags, your company can use bluetooth-enabled devices to track the location of your assets with real-time visibility. This real time visibility provides your business with a clear picture of where its assets are at any given moment and helps to prevent lost and stolen items.
When companies implement Bluetooth LE, they gain visibility into the data behind the processes including how long the process takes, any delays from bottlenecks, and areas for improvement. This data helps managers to make informed decisions and shows them areas they may not have known need improvement.
Security
Bluetooth LE is the most secure wireless communication protocol if appropriately implemented. The best way to ensure the security of Bluetooth LE is by pairing the device with the appropriate pairing method, such as a passkey. Once paired with the appropriate method, your business can rest assured that it will never have to worry about cyber attacks again.
Link Labs' Bluetooth LE-enabled platform works independently of your IT network. IT departments love that the platform is completely separate as this provides more security to both your IT infrastructure and your IoT platform. The data can be integrated from the cloud if desired, but the device connectivity is securely segregated.
Sustainability
Bluetooth LE is specifically designed for low-power consumption and smaller data rates. Due to these small data transfers, lower-power consumption, faster transmission speed, and accuracy, Bluetooth LE positively impacts sustainability. One of the most significant benefits Bluetooth LE provides to sustainability is that the batteries do not require frequent replacement. This allows your company to not only save on battery costs and labor costs but also to reduce waste.

Flexibility
Because of the large adoption of Bluetooth LE worldwide, there are thousands of low-cost devices available at a mass-production scale. These devices come in thousands of form factors and with different types of sensors - the ecosystem is almost endless. And if you do need a custom form factor, it's generally easy to find the chips and raw materials to make a custom device fairly quickly. This availability drives down the costs of an IoT platform for those who choose Bluetooth LE-enabled systems.
At Link Labs, we realize that the unique needs of customers require various form factors and Bluetooth tags. We don't try to push you into our particular tag - we have the capability to easily add most Bluetooth-LE enabled devices to our platform to give you the most flexibility in solving for your particular use case.
Is Bluetooth LE Enough for IoT?
Bluetooth LE has made tremendous progress in advancing IoT. But by itself, Bluetooth LE still has limitations. The range of Bluetooth LE has increased over the years, but it still works best in relatively short distances. The accuracy of Bluetooth LE is generally several meters, particularly in a multi-path environment. Bluetooth LE is great, but it's not enough.
That's why Link Labs has added patented technology around Bluetooth LE to provide enhanced accuracy and even longer battery life.
In traditional Bluetooth LE systems, the tag advertises its location and other infrastructure calculates the location of the tag based on the strength of the signal. At Link Labs, we've reversed this. Powered location beacons can last many years longer than tags advertise location, and the Bluetooth LE tag calculates its own location (in nanoseconds) using phase-ranging technology on the tag. The tag only does this calculation on the configurations that you set - at certain intervals, upon motion, or upon rest. Love the battery life of Bluetooth LE tags? Multiply that by 2-4x with Link Labs' revolutionary approach. You can even use less infrastructure than traditional Bluetooth LE systems and gain accuracy around a meter.
What Can Bluetooth LE Do For You?
Link Labs' AirFinder OnSite uses Bluetooth LE technology to provide you with the visibility and security that's important to you. Get a better understanding of how Bluetooth LE can help you by booking a demo with us!