The healthcare industry is transforming to become more digitized every day. Technological innovations are making healthcare more accessible and affordable to people everywhere, all while helping to make the jobs of those in the healthcare industry more efficient. Let's take a look at how digital transformation is shaping the future of healthcare.
Why is Technology Rapidly Evolving for Healthcare?
The healthcare industry has seen some of the most dramatic changes in the recent decade. These changes are a result of both technological improvements and economic disruption. Technology is evolving so fast because of a phenomenon known as Accelerating Change. Each technological improvement can create the next, thus stronger generations of technology are created at a faster rate. As each generation of technology is better than the last, it builds new technology faster.
Impact of Digital Transformation on Healthcare
Digital transformation in healthcare benefits consumers and workers in the medical industry overall. Now clinics everywhere can manage more information at a quicker rate. Monitoring patients virtually allows for lower overhead costs for clinics. The improved monitoring aids clients because it allows them to be assisted by doctors faster and increases the possibility of discovering an illness at a faster rate.
---
Join the AirFinder Difference!
Innovation. Organizations can be freed up to innovate and bring more impactful products and services to market.
Profitability. Increased profitability provides new opportunities to innovate and improve valuation.
Digital Transformation. Discover competitive advantages, new revenue opportunities, improved customer relationships, and increased efficiency.
---
Digital Healthcare Trends
Curious about recent technology trends in the healthcare industry? Below we've outlined some of the top ones we're seeing in 2022.
Telehealth
One of the biggest trends in healthcare is telehealth. It is a virtual practice that clinics are using to treat their patients. It utilizes telecommunication technology to treat and update clients. Telehealth became popular due to the COVID pandemic and continues to see growth as this practice becomes a new "norm" for clinics. Additionally, there's been an uptick in equipment lending due to telehealth. This provides for more at-home care. Healthcare organizations could seek benefit from asset tracking systems to ensure that equipment is returned once it's no longer in use by a patient.
IoT
IoT solutions are becoming more and more integrated into all aspects of healthcare networks. It impacts healthcare because data can be collected and stored in one central system. IoT leverages cloud-connected devices to process and store larger loads of information faster and more efficiently than ever before. Through an asset tracking platform, users can quickly visualize information surrounding healthcare equipment usage, location, and more.
Wearable Devices
In recent years, there has been more awareness surrounding health and fitness through the use of wearable devices. Companies have been able to capitalize on this by introducing new apps that sync with people's phones and smartwatches to help monitor their health. These devices allow people to track their health daily. When it comes to wearable devices within healthcare environments, hospitals and care facilities can leverage wearables for things such as wander management.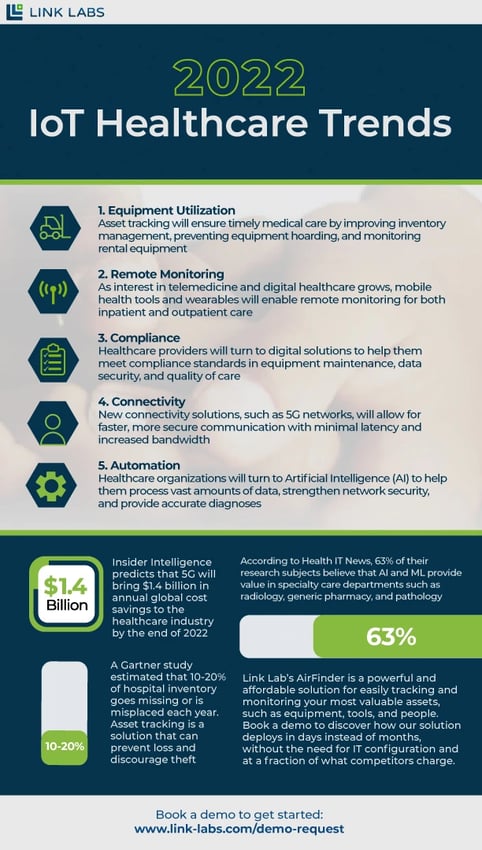 The Future of Healthcare
Healthcare and other industries alike are going to continue to become more digital. IoT technology innovations increase the ability to store information, treat more patients, diagnose illnesses faster, among other benefits. Digital healthcare will allow users and doctors to become more connected – no matter where they are located.
Link Labs' Contribution to Digital Transformation in Healthcare
Link Labs' AirFinder asset tracking solutions provide hospitals with the ability to locate equipment, prevent hoarding, ensure compliance, and eliminate "cannot find" lists. Our Real Time Location Solution (RTLS) system does not strain a hospital's WiFi network as it functions on a private network.
If you want more information about how Link Labs is helping shape the future of healthcare, book a demo today to learn more.