The Internet of Things and IoT applications play a massive role in the development of a business. IoT allows these businesses to keep track of assets, information, and much more through connected devices. Link Labs primarily focuses on the Internet of Things. However, we understand that the Internet of Behaviors can also play a crucial role in manufacturing. It is growing increasingly important as technology and culture continue to evolve. Continue reading to learn more about the critical differences between the two applications!
What is IoT?
The Internet of Things relies on connecting devices and other electronics through the internet or another connective technology. These devices communicate to share valuable data to aid in the automation or enhancement of a process. There are well over 10 billion devices connected to the IoT!
Although some consumer products like smartwatches and smart speakers are just as much IoT devices as anything else, IoT is of the most use in professional contexts. With IoT, companies can collect data that can help them grow, make better business decisions, and improve daily operations' efficiency.
Within the manufacturing realm, IoT is sometimes referred to as IIoT or the Industrial Internet of Things. IIoT devices are still IoT devices that fit the previous definition – the extra "I" simply denotes industrial uses and creates a distinction between these and consumer products for ease of discussion.
What are IoT Applications?
IoT applications are business tools that use machine learning and artificial intelligence to provide real-time data insights. IoT devices collect data, which is then passed on to IoT applications to be analyzed and visualized through the application's software.
IoT applications are incredibly beneficial to the manufacturing industry, particularly regarding WIP tracking. Through this software, operators are provided visualizations of production statistics. Which production stage lasts the longest? Are any stages operating either slower or quicker than usual? This access to statistics and other visualizations of operations allows operators to address issues as they arise and predict where they might experience more issues down the line. IoT devices might gather the information, but that information could not be as easily decoded or synthesized without IoT applications.
The usefulness of IoT applications in manufacturing is not limited to WIP tracking, either. All forms of asset tracking can provide important data to operators through IoT applications. These applications allow for anything tangible within a company to be tracked and monitored, whether it be tools, equipment, safety, or staff. And the resultant information can help operators respond in real-time and plan for the future.
---
Join the AirFinder Difference!
Innovation. Organizations can be freed up to innovate and bring more impactful products and services to market.
Profitability. Increased profitability provides new opportunities to innovate and improve valuation.
Digital Transformation. Discover competitive advantages, new revenue opportunities, improved customer relationships, and increased efficiency.
---
What is IoB?
The Internet of Behaviors (IoB) is an extension of IoT, a form of IoT dedicated to gathering and analyzing data on human behavior that can then be applied to reflect or influence behavioral patterns. A good example of IoB can be found in the collection of browsing data to help inform what online advertisements are presented to a user.
Essentially, IoB provides behavioral data and analytics such as what the customers like, what kind of habits the customers have, and what tendencies customers show. Companies can then use these analytics to target a specific customer base within advertising or to inform decisions about current and future offerings based on customer wants and needs.
While IoB is of most immediate use for marketing and R&D, this technology is thought to herald yet another industrial revolution, sometimes being considered the forerunner of Industry 5.0. It is expected to center around technology that centers the human experience to its operations, prioritizing customization and quick response.
Although Industry 5.0 is not yet an entirely practical pursuit on a large scale, many manufacturers are starting to provide customization options to their customers and emphasize a quick turnaround. While this might not be fully integrated to IoB in all cases, it reflects a similar shift in cultural values toward personalized products and experiences, as well as high-speed production and delivery.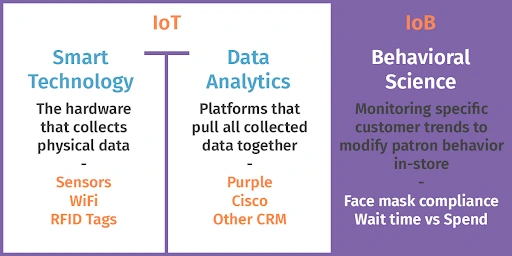 IoT vs. IoB
IoT and the IoB are alike but not the same. These two work together to collect the most efficient data for companies, often with IoT being IoB-enabled in a way that is largely overlooked due to the technology's novelty. Here's a workflow of how the two come together to collect data:
User

The data begins with a single user.

IoT

All the data is then shared amongst the vast network of the IoT and its component devices.

IoT Applications

IoT data gets captured in real-time, and then is analyzed and presented as readable data by the IoT applications.

IoB

The data is then examined from a behavioral point of view to inform decisions about business strategies.

Take Action
How Link Labs Can Help
Link Labs provides an IoT solution that helps you keep track of your assets in real time. Our integrated AirFinder IoT application also presents and synthesizes data to suit your specifications and needs, providing a truly scalable solution for your needs.
Further, we can provide predictive analytics that can equip you to make production decisions in real-time, with no need to wait for historical data. After all, we understand the importance of being able to make quick, informed decisions about the production process and other operational concerns. Book a demo today to learn more about how Link Labs and AirFinder can benefit you!