The Internet of Things is a constantly evolving confluence of technologies. Right now, a range of ecosystem stakeholders are taking a close look at how distribution of computing infrastructure to the network edge, supported by an end-to-end architecture connecting edge infrastructure to cloud services, can support IoT use cases. One way to think about it is the edge as a place, the network endpoint where the end user or device is physically located; fog, a descriptor coined by Cisco, is the network architecture that links the edge to the cloud, which in this case, is located both centrally and at the edge. Confused yet?
Terminology aside, the point of the edge and fog is relatively straightforward. The massive proliferation of IoT devices has lots of implications, but for the purposes of this conversation, let's focus on three:
The amount of data the IoT will produce cannot be adequately supported by centralized cloud services;
The latency needs of certain IoT applications—largely mission critical communications—simply won't work if data has to travel a long distance for processing;
And it's not cost-effective or efficient for any network operator to transport that amount of data to the cloud anyway.
Earlier this week 451 Research, in conjunction with the OpenFog Consortium, put out a report examine the five-year outlook for this market segment. To lay a baseline, the report authors lay out their own definitions. The edge comprises IoT devices "where sensor data originates, such as vehicles, manufacturing equipment and smart medical devices" that have embedded compute, connectivity and analytics capabilities. In addition to these connected things, the researchers also consider local data centers and mobile edge computing infrastructure.
According to 451's analysis, the global market for fog solutions will be worth $18 billion by 2022 with the energy, utilities, transportation, health care and industrial segments leading the spend. Early investment will come from hardware, followed by applications and services. This is a nascent area of IoT; at this point, the hardware piece is most developed, so let's start there.
I mentioned that Cisco coined the term. Their product offering is the Edge Analytics Fabric System, which is built on an open architecture. The company sums up the value: "Your business operates physical assets that create data and complexity. Network and cloud connections are not available. Now you can connect, process and analyze your distributed data where it lives. Solve IT and OT challenges and make decisions in real time, creating value when you use all the data that's important to your business."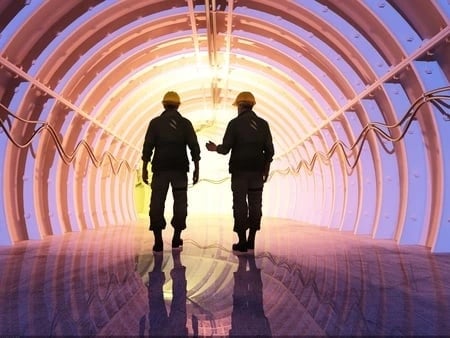 In this pitch, Cisco assumes no connectivity, which wouldn't always be the case, but let's assume that it is for the purposes of a hypothetical mining use case. Industrial mining often takes place in far-flung locations with little to no access to traditional cellular or even satellite networks, however, these same mines depend on immensely complex, and expensive, equipment to operate. Say you set up a virtualized radio access network and virtualized evolved packet core to handle your connectivity, so now these machines can talk to each other and to operators either on-premise or in a remote location. When a machine failure can lead to costly downtime, it becomes paramount to use machine data to ideally conduct predictive analytics that can trigger an alarm, and even initiate a fix, prior to a failure that impacts the bottom line. This is the network edge—timely data processing is crucial so that rules out a sole reliance on the cloud, not to mention the sheer data transport cost of moving terabytes per hour from Siberia to a data center in Moscow.
Dell, which recently announced it's standing up a business unit dedicated to IoT along with a $1 billion three-year investment plan, is another big player in edge hardware, specifically the Dell Edge Gateway. In their product description, Dell highlights the transport cost aspect, as well as the fact that not all of the data generated by an IoT device is inherently valuable. "An edge gateway…connects varied wired and wireless devices and systems, aggregates and analyzes the input, and sends it on. Because the gateway sits close to your devices and sensors, it sends only meaningful data to the cloud or control center, saving you expensive bandwidth."
Back to the OpenFog Consortium—this is a nonprofit group that, via numerous working groups, has established a reference architecture focused on ensuring interoperability as the ecosystem continues to evolve. Director Lynne Canavan, in a blog post, hits on the key IoT problems fog is poised to address. "Fog computing continues to steadily expand, due to its ability to uniquely solve the technical challenges of advanced digital applications in IoT, embedded AI and 5G. For use cases that require SCALE—Security, Cognition, Agility, Latency and Efficiency—all handled in sub-milliseconds—fog computing and networking isn't a better approach: It's a necessary one."
OpenFog's reference architecture is being used by the IEEE Standards Associations as it begins its work to standardize fog for IoT and other edge technologies. OpenFog Board Chairman Helder Antunes, also Cisco's senior director of the Corporate Strategic Investments Group, in a blog post described the adoption by IEEE as a "huge milestone" and a key enabler that will help merge information technology, communications technology and operational technology for the IoT.
"To truly be transformative," he wrote, "the Internet of Things needs to be able to handle massive amounts of data in near real-time for advanced use cases such as drones, self-driving vehicles, and embedded artificial intelligence applications. It also needs to be completely interoperable--from end-user devices and sensors all the way to the cloud. Traditional architectures can't deliver on the operational challenges for today's advanced digital applications."
Many major global operators are in various exploratory stages regarding edge computing and fog architectures, although none have publicly communicated any specific details of their plans. One of the major challenges associated with enabling the IoT edge from an operator perspective is real estate. Think of autonomous vehicles going down an interstate--they'll produce tremendous amounts of data based on communications between smart infrastructure, pedestrians, other vehicles, the cloud, everything. To support that level of data transport and processing, you'd expect a massive hardware rollout, but where does all the equipment go? Central offices might not be close enough; pole attach and rooftop deals--think about the current state of small cell deployments--are obviously difficult to navigate, not to mention footprint and power supply limitations. Alicia Abella, AT&T's VP of Advanced Technology Realization, during a keynote presentation at Fog World Congress, said servers could be added to existing infrastructure sites, but also floated a fascinating concept--using the latent compute power of individual cellphones working in conjunction to address the needs of IoT at the edge. Expect to hear a lot more about edge, fog and the IoT.