IoT is Reshaping Manufacturing and National Policy
Manufacturing, for the majority of human history, has been conducted by skilled workers. Then, in the mid-1700s, the Industrial Revolution ushered in an era during which people and machines began working together to speed production times, improve quality, and otherwise drive process efficiencies. Now, the Internet of Things (IoT)— geared toward asset efficiency, reliability and availability — is poised to usher in an entirely new way of converting raw materials into products ready to enter the market.
The idea here is straightforward: manufacturers will make capital investments into technology, which will, in turn, create long-term reductions in operational expenses. Networked machines, sensors and so forth, don't make mistakes or require breaks, sick days or training. Let's take a look at a few case studies to get a better understanding of how the IoT is being leveraged by manufacturers.
Case Studies
As soon-to-be products take shape along a manufacturing line, the long-standing paradigm was to employ people to visually inspect products for consistency with quality standards. As products pass by, an inspector examines each and, when a problem is spotted, the unit is removed from the production line. With increasing advancements in machine vision, this repetitive task can be handed off to cameras that are connected to a platform looking for defects which either deems the item acceptable or initiates a corrective action.
Process Automation
G2 Technologies, which delivers a broad range of process automation and related products, worked with an automotive foam manufacturer to use machine vision to better manage product quality. The foam is delivered to automotive manufacturers in 20-foot-wide rolls; the material moves down a line at the rate of 600 feet per minute, so it goes without saying that visual inspectors were missing defects including tears and variations in thickness. To address the issue, G2 introduced an automated process to use a camera array to capture images of the foam. The images were then examined, in real time, according to the company, for defects, which were cataloged. In addition to gaining a new level of reliability in its production process and turning over repetitive tasks to machines, the manufacturer was able to use the information to offer up products with noted defects at a lower price point.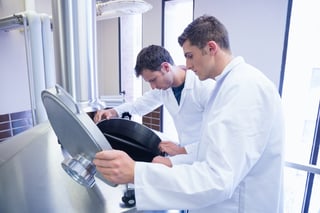 While the G2 project focuses on how IoT enables manufacturing in the factory, smart technologies can also help manufacturers diversify into offering both manufactured products and complementary services. IoT firm PTC, perhaps best known for its ThingWorx platform, facilitated this in conjunction with German-based Heidelberg, which makes a range of machinery including printing presses. According to PTC, Heidelberg attributes 40 percent of its sales to services and related transactions. Using ThingWorx, Heidelberg connected some 10,000 machines and 15,000 systems; in action, what this means is Heidelberg can remotely monitor and fix issues that would otherwise impact a customer.
PTC notes the company can now resolve more than 70 percent of problems remotely. "We can give customers excellent support," Uwe Galm, vice president, system service and head of operations, said. "With the ThingWorx platform, ongoing consultation as needed, and regular function and security updates through PTC Cloud Services, we are well positioned for the future."
» Learn more about Link Labs + Thingworx Integration
Then there's what is arguably the ultimate goal of implementing IoT solutions in manufacturing — lights out factories that require no human touch. FANUC Robotics achieved this with a partner that produces components that are used in vehicle manufacturing. Specifically, the client wanted to fully automate a machining process so that it could run 24 hours a day.
FANUC's Cathy Powell explained the setup: "The system uses four dual spindle lathes with one robot mounted atop each machine to save valuable floor space. A vibratory bowl feeder connected to each lathe feeds parts to the robot. The robot, equipped with a single part gripper, loads parts into the spindle which reverses work pieces in the chuck for complete machining. A built-in sensor verifies that parts are fully seated into the chuck to ensure accuracy. Finished parts are automatically released to an outgoing conveyor." The end result is a lights out process that yields 320 parts per hour with no need for an operator or monitor to be on site.
Industrie 4.0
In Germany, the home of Audi, Daimler, Bosch, Siemens, Bayer, ThyssenKrupp, Adidas and many other high-volume global producers, manufacturing is a pillar of the national economy and a huge source of employment. In fact, manufacturing is such an important part of the German economy, the country is pursuing an initiative dubbed Industrie 4.0, which is meant to increasingly incorporate ICT into manufacturing operations to create smart, digitized factories.
The nationwide push is something Chancellor Angela Merkel has been talking up since 2011. Last year, during a speech at the Hannover Messe industrial exposition, Merkel said, "We have reached a critical moment, a point where the digital agenda is fusing with industrial production. This period will determine the future strength of the world's leading industrial centers." At a 2014 IT event in Hamburg, Merkel mentioned the lack of major tech companies in Germany, specifically calling out chip production, noting, "The world market is far ahead of us," but, "Connecting digital technologies with industrial products and logistics…Germany has a chance at taking the lead."
Industrial IoT in China
Similarly, manufacturing powerhouse China in 2015 adopted its Made in China 2025 program, which, while also specifically emphasizing manufacturing, more broadly incorporates everything from shipping, rail and vehicles to agriculture, medicine and materials. A major part of this is proactively fighting stigmas associated with goods manufactured in China by aligning Chinese manufacturing with international standards.
To facilitate this, the government plans to provide $300 billion in loans, research grants and other funding to Chinese companies in the target industrial areas. At the recent China Development Forum in Beijing, Minister of Industry and Information Technology Miao Wei said, "In remedying the link between laboratory products and their industrialization, we will focus on innovation in mechanisms and systems, rely on relevant enterprises to combine universities and research institutes, and speed up the construction of innovation centers that specialize in new materials, robotics and other aspects. We welcome more countries, enterprises and organizations to participate in the process of transformation, as well as the upgrading of China's manufacturing industry, and the implementation of cooperation and exchange on different levels and in various forms, so as to share development opportunities."