Remote monitoring, asset tracking, and condition-based monitoring are primary use cases for IoT in manufacturing.
But the real standout is IOT in manufacturing, which, according to the analysis, saw an 84% increase in IoT network connections compared to a year ago—that's more than double the growth seen in the energy/utilities sector, which saw 41% year-over-year growth.

To further punctuate the interest in IoT for manufacturing, Verizon projects that by the end of 2017, global manufacturers will invest some $183 billion in using the Internet of Things to transform business operations digitally. Just like the year-over-year connection growth metrics, that figure is more than double the $85 billion 2017 investment from the transportation sector, and almost three times the $66 billion going into IoT for utility companies.

So why are manufacturers so interested in IoT? Regardless of what the product being produced is, the more efficiency inserted into the process means more products assembled for a lower cost, which increases profit margin. As the report authors put it, "In manufacturing, sensor data is keeping equipment up and running, streaming data that enables an enterprise to predict when maintenance will be needed. Placing equipment on predictive maintenance schedules helps reduce downtime, cut costs and keep production humming."

This speaks to condition-based maintenance, one of three primary manufacturing IoT use cases Verizon is focused on; the other two are remote monitoring and asset tracking for manufacturers. Whether it's an automobile assembly line or a food processing plant, business success depends on machinery that's kept in good repair. Production equipment can be outfitted with connected sensors that provide near real-time insight into critical measures of equipment health. As data is collected and analyzed, potential problems that could cause downtime are identified before manifesting. This way a fix or mitigation can be pushed remotely or conducted on the factory floor before a failure causes downtime.
Depending on the level of investment, diagnostic, repair and inspection can be mostly automated. In addition to optimizing uptime and productivity, this has a secondary impact of reducing the time and money spent on filling out forms that manually record equipment health and other data points.
Asset tracking is another key manufacturing use case that can benefit from the integration of IoT technologies. In the context of a factory, it's imperative to have insight into your supply chain. Materials come in for assembly, and finished products leave bound for a point of sale. Without understanding in the inbound and outbound flow of materials and products, it's impossible to project output and manage customer expectations and delivery timeframes.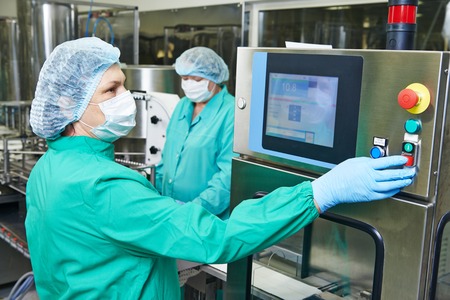 Verizon gives the example of pharmaceutical manufacturers, which, in addition to running a high-value, important component of the healthcare industry, are subject to strict regulations. In the U.S. the Drug Supply Chain Security Act requires pharma companies to label shipments with an identifier, serial number, lot number and expiration date. Another requirement involves storing and retaining granular records tracking sales, shipments, and other info related to the movement of product through the supply chain. The more significant goal here to is to combat the sale of counterfeit drugs, which the State of the Market IoT report estimates costs the pharmaceutical industry between $75 billion and $200 billion each year.
From the Verizon report:
"Consider the case of a global pharmaceutical company that manufactures pain medication and is shipping a $100 million order to a regional distribution center. Sensors in the containers monitor location, temperature and geo-fencing parameters on the shipment. When a major accident occurs, the driver is forced to take an alternate route. This triggers an alert, notifying the manufacturer that the geo-fencing parameter has been violated. In turn, the dispatch contacts the driver, confirms the situation and pinpoints the shipment using GPS. This near-real-time data will allow the company to reset expectations for delivery, thus preserving the customer relationship and protecting the brand by accurately tracking shipments, and providing updates regarding location and temperature during transit."
Verizon is one of many operators and vendors that have a smart manufacturing-focused IoT portfolio. Sandvik Cormorant is a Swedish company that manufactures tools used by manufacturers that produce things that require metal cutting. The
company worked with Microsoft to deploy the Azure IoT platform
, along with other Microsoft tools to apply predictive analytics to its supply chain and production operation. Sandvik outfitted its production machinery with sensors that track performance metrics. Cortana Intelligence runs the data and optimizes the manufacturing workflow, and also conducts predictive analysis to avoid unplanned downtime.
Sandvik Cormorant Chief Architect and Senior Manager Nevzat Ertan said the result of the digital transformation with Microsoft is the ability "to make quicker and better-informed decisions to become more profitable. We have developed the new predictive analytics manufacturing solution [that] connects an in-house shop floor control tool that collects all the information, such as machine data, tool data, and sends it to Azure for real-time analysis using machine learning algorithms to optimize the process in real-time and set up predictive maintenance schedules and set alarms so that we can know when to take a machine offline before a failure occurs."
Given the clear path to return on investment and it's global economic importance, it's not surprising that the manufacturing vertical is embracing the IoT. Mike James, former chairman of the Manufacturing Enterprise Solutions Association (MESA) International Board of Directors, wrote in a
blog post
that
"factories of the future will be 30% more productive...To achieve this, today's manufacturers need to invest in building algorithms for small data. For people like myself involved in real manufacturing in the real [world] today, visionary statements are all very well, but how do they translate today? Today's action, today's decisions, today's commitment of resources (money and people) can drive us in the right direction."