The digital economy continues to grow, and many industries have shifted from paper-based systems to wireless technology. This shift has had a significant impact on asset tracking solutions. One of the changes has come from the increase in mobile devices. Through mobile asset tracking, companies can track the condition of assets, equipment, and personnel while on the go. The rise of mobile asset tracking has allowed companies to experience greater efficiency and ROI.
Is Mobile Asset Tracking Important?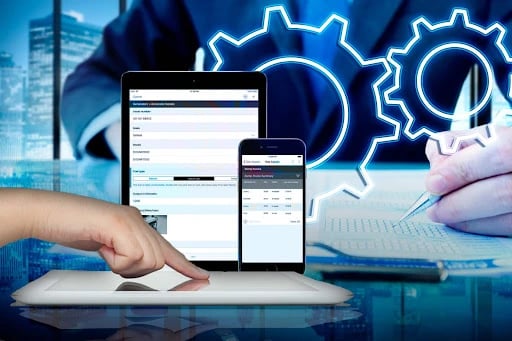 Mobile asset tracking is the process of monitoring and tracking the assets used in a business. This process tracks and records data, such as location and condition, and allows operators to make more informed business decisions. Since asset tracking typically operates on mobile devices, maintenance workers can better manage machinery used in manufacturing without being present in the workplace.
The typical maintenance strategy companies incorporate is called preventive maintenance. Preventive maintenance involves following a routine maintenance schedule for repairs. However, maintenance procedures are changing. As a result of mobile asset tracking, companies can now incorporate predictive maintenance into daily workflows. Predictive maintenance involves tracking the usage and condition of equipment and servicing it before the equipment fails. Malfunctioning equipment can halt production. These breakdowns result in the loss of millions of dollars for businesses. Predictive maintenance helps keep companies updated on the condition of their equipment to avoid future issues. Maintenance workers will be able to replace failing or faulty equipment before any issues occur.
---
Join the AirFinder Difference!
Innovation. Organizations can be freed up to innovate and bring more impactful products and services to market.
Profitability. Increased profitability provides new opportunities to innovate and improve valuation.
Digital Transformation. Discover competitive advantages, new revenue opportunities, improved customer relationships, and increased efficiency.
---
What Are the Benefits of Mobile Asset Tracking?
The detailed data and analysis provided by asset tracking and monitoring systems allow for more efficient business practices. Organizations can track the performance of their machinery more efficiently from these systems. They can know what equipment is not being utilized to its fullest capacity and which equipment is being overused. Some of the benefits included with mobile asset tracking include:
How Can Link Labs Help?
Link Labs has developed a new technology that is revolutionizing the asset tracking industry. Through a Real Time Location System (RTLS) companies are empowered to track and monitor equipment through proprietary and patented technology. Link Labs' AirFinder not only gives real-time updates of your assets but also has a longer battery life and consumes less power than competing brands. It offers all of these benefits at an affordable price. If you are interested in a demo of AirFinder, request a demo today!