According to research done by JLL, the U.S. will need 1 billion square feet of new industrial space by 2025 to keep up with e-commerce demand. That estimate does not account for all warehouses already in the market.
Before we get into the nitty-gritty of why this trend is taking over America, it might help to define these giant, living, breathing mailboxes.
Warehouses are large industrial buildings where raw materials or manufactured goods may be stored before exporting or distributing for sale.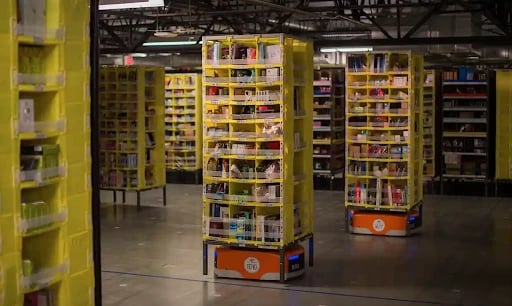 E-Commerce Industrialization
The rise of online shopping has retailers scrambling to find more space to store and distribute their inventory. Consumers spent $791.70 billion online with U.S. merchants in 2020. According to the U.S. Department of Commerce, this is up an incredible 32.4% year over year. That is the highest annual U.S. e-commerce growth in at least two decades. It is also more than double the 15.1% jump in 2019.
The main reason e-commerce is driving the demand for warehouse space is because it requires three times the space of traditional methods. According to Prologis, this demand comes from more product variety, more parcel shipping needs, and more space than pallet shipping.
Just-in-Case vs. Just-in-Time Logistics Strategies
Although there are about 11,000 existing warehouses or 4.7 billion square feet of space in North America, it is not enough. As of 2020, nearly 190,000 square feet are under construction in North America.
Historically, supply chains were tuned for efficiency, not resiliency. They focused on just-in-time strategies rather than just-in-case. Now we are beginning to see logistics companies entering the market to lease space to satisfy this just-in-case type of demand. Most warehouses today are leased a year in advance of construction. Even if you want space tomorrow, there is a shortage of it. Companies are finding creative ways to store their inventory.
---
Increase Your ROI by Investing in AirFinder OnSite
Low Cost. AirFinder OnSite XLE is a fraction of the cost of competitors' pricing.
Long Battery Life. XLE lasts up to 7 years with hundreds of location updates daily.
Increased Efficiency. Spend less time looking for assets, and more time being productive.
---
Micro Warehouses
Since consumer expectations are continuously growing, the push for faster deliveries is forcing retailers to get creative. It is all about proximity to consumers. Good locations require land next to major ports, highways, and airports. These are difficult to find since there is a shortage of land in the wake of the warehouse boom.
Direct-to-consumer sellers are racing to find empty spaces closer to their consumers in urban areas. One new trend is coming from vacant malls. With the rise of e-commerce, landlords have been unable to lease their spaces to traditional retailers. In an attempt to be closer to customers, logistics companies and traditional retailers are turning malls into micro warehouses. The popularity of online shopping and same-day delivery has also boosted demand for spaces to serve as last-mile delivery fulfillment centers.
According to a Wall Street Journal report, Amazon is looking to convert former or current JCPenney and Sears stores into distribution hubs to deliver packages.
What's more, retailers can set up micro warehouses to not only be fulfillment centers for shipping out orders, but because malls already have shoppers coming in, they can conceivably let shoppers order and pick up from the warehouse on the spot.
How Can E-Commerce Streamline Warehouses?
As the footprint of warehouse space increases in North America, the need to properly manage inventory and equipment becomes even more crucial. Real-time visibility into product location is the difference between failure and success. If you don't know the location of your high-value assets, then partners, clients, and consumers will begin to feel the weight of poor management.
IoT solutions, such as asset tracking systems, enable warehouses to more easily find products on-demand, without having to manually search for missing products. Installing an asset tracking system is a simple way to stand out as a cutting-edge company. In a world that is becoming saturated with warehouses, a Real-Time Location System (RTLS) might be the ticket to staying ahead. If you would like to learn more, book a demo.