With the introduction of Apple AirTags, consumer interest in asset tracking devices has soared. An asset tracking device is a critical component in ensuring important items don't become lost or stolen. These types of devices fit into a broader platform that is referred to as the
Internet of Things (IoT
).
An IoT platform is essentially the "glue" that holds together connected devices and applications. This allows users to pull together information from connected devices, networks, and software that work together to unlock valuable, actionable data.
You may be wondering, how do Apple AirTags fit into IoT platforms? Let's take a deeper look.
What Are IoT Platforms?
IoT platforms function as a mediator between the hardware and application layers, creating one comprehensive system that communicates back and forth. Its primary tasks include data collection from devices over secured networks, remote device configuration, device management, and cloud-based software updates.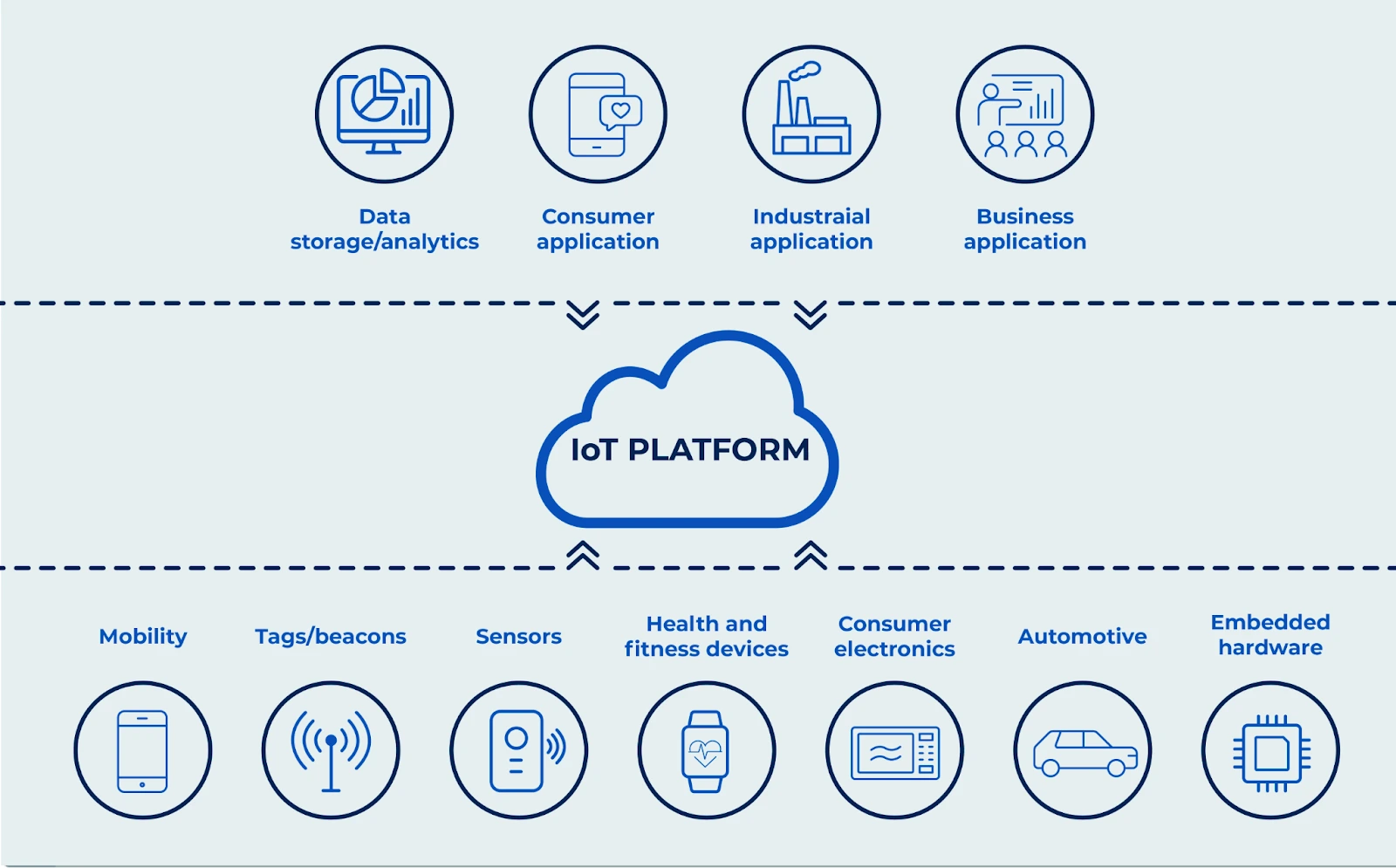 To be used seamlessly in real-life and commercial scenarios, IoT platforms should support integration with almost any connected device and blend in with third-party applications used by the device. This independence from underlying hardware and overhanging software allows an IoT platform to manage any kind of connected device more easily.
Do Apple AirTags offer this type of independence within its IoT framework? The short answer, no. Although AirTags fit into an IoT platform, it is exclusive to Apple products and cannot be blended with third-party applications. To use the tags, you must already own an Apple device (such as an iPhone or MacBook) to enable location monitoring and access to the mobile software application. All of this must be backed by either the individual user's WIFI or cellular service provider.
With Link Labs AirFinder, you are provided a comprehensive IoT asset tracking system with the ability to integrate where needed. This allows you to be in the driver's seat to create a solution to best meet business-specific needs.
Features and Benefits to Consider When Selecting an IoT Platform as a Service Provider
To understand the benefits of an IoT platform, businesses should first understand the features. Though every platform has its own specific set of unique features and mechanisms, a complete IoT platform has four main features.
Features
Scalable Data management: With an increasing number of sensors and devices implemented as companies grow, the collected data and the complexity of IoT projects increase. An IoT platform that helps businesses meet their ever-changing needs is critical.
Analytics: A powerful IoT platform should have analytics capabilities such as data visualization and machine learning. This helps support the analysis of aggregate data in the cloud to generate actionable insights.
Device Management: IoT platforms enable users to track, monitor, and manage business-critical assets. Effective device management is important for the maintenance and security of those assets.
Security: Organizations can ensure the security of data within the IoT system by relying on the features of an IoT platform, such as a secured network.
Now that we've overviewed the main features of an IoT platform, let's take a look at how implementing an IoT solution with these features can benefit your workplace processes.
Benefits
Reduce Costs: The management and maintenance of industrial assets via manual methods is costly, time-consuming, and complex. An industrial IoT platform centralizes the entire management process reducing a great deal of the burden and cost.
Improve Operations: IoT solutions provide real-time information on the performance of equipment and people to help streamline and improve business processes and workflows. By capturing IoT data, the platform facilitates operational improvements in areas such as predictive and preventative maintenance.
Improve Security: Commercial-grade IoT platforms can provide extra layers of security and deliver identity management capabilities–such as secure authentication and authorization–to ensure the IoT system doesn't become vulnerable to cyberattack.
The features and benefits mentioned above should be major consideration factors when selecting an IoT platform provider.
Comparison of IoT Platforms
With billions of devices being utilized under an IoT platform every single day, commercial industries and consumers alike have recognized the need for asset tracking. But is AirTag able to provide all of the necessary features and benefits to both consumers and businesses alike? Here's a comparison of Apple AirTags alongside the Link Labs AirFinder.
APPLE AIRTAGS
AirTags are very much a consumer asset tracking tool, not capable of scaling realistically to enterprise level. Due to limitations surrounding battery life, simultaneous tracking, distance, and monitoring data, Apple AirTags do not fit well into the industrial side of IoT.
Link labs AirFinder
Link Labs' AirFinder platform fulfills the demand for cost-efficient indoor and outdoor asset tracking. With an extended battery life of up to 7 years, location monitoring wherever you need, and IoT software that empowers users to view comprehensive asset data. Link Labs is the leader in delivering cost-effective, real-time operating systems to businesses in manufacturing, hospitality, healthcare, and other industries.
While Apple AirTags will benefit consumers, they have no comparison to commercial-grade IoT platforms. The Link Labs AirFinder platform has been providing service to companies such as AT&T, Georgia-Pacific, Halliburton, Medtronic, and more. As a leader in enterprise asset tracking, Link Labs has been a driving force for companies looking to implement leading technologies to help enhance workplace processes.
Wrapping it Up
Finding an IoT platform that enables users to better manage their devices is key in improving productivity and more. At Link Labs, we provide the best fit solution for your industry. If you would like to see for yourself how AirFinder works, request a demo today.